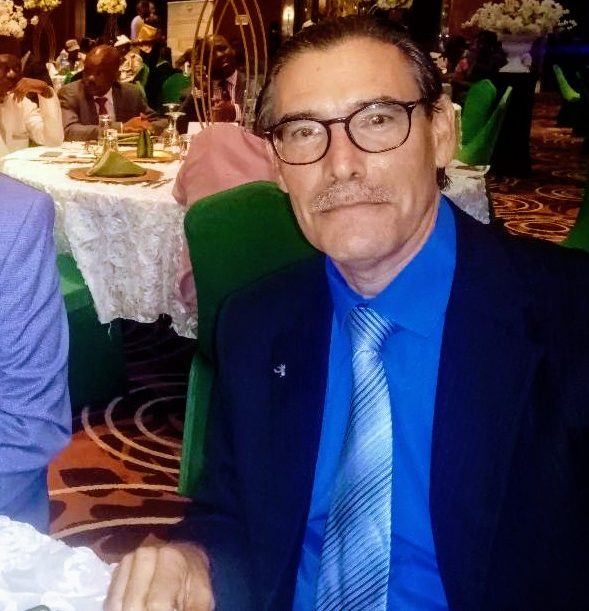 Mr. Mark Walsh is the Managing Director, ENL Consortium, concessionaires of Terminal C and D at the Lagos Port Complex, Apapa. Walsh reports directly to the Executive Vice Chairman/CEO of the company, Princess Vicky Haastrup. In this interview with Shulammite 'Foyeku, he shares his experience working with Princess Haastrup at the port for more than 14 years.
What is your experience working with Princess Haastrup?
I have been working with ENL and Princess Haastrup since 2006 when the port concession started. Since I have been working with her all these years, we have had a very good working relationship. We have been learning to get to know each other better all these years because it is an ongoing process. She is very nice to work with. She is like any other boss; at times we lock heads on different issues based on the way I look at things and the way she looks at things but we usually work out any differences and move on. I enjoy the job, the relationship that we both have and over the years I think we have grown very closer to how we look at things and how we see each other. I think we've known each other pretty well at this point in the last 14 years.  It's a long time to know somebody and work closely with them. I have enjoyed 14 years of my life working here in Nigeria with ENL and being part of the family that we have here.
Having worked with her this long, how would you describe her?
She is very tough but fair. She is a very strong leader. When you need someone to rely on to get something done, she is the person that all the terminals come to, to make sure things get done. She is dependable because she has her unique ways of doing things.
What would you say is the secret of her success as a port operator?
One of her secrets is that she is a fast learner. She has been able to learn and adapt to the situation because when she came in, people thought that because she is a woman and one of the few in the maritime industry as the time, she really did not know the business that well. But she surprised everybody and showed them that her knowledge of the business had grown immensely over the period of time. That led her to become the Chairman of Seaport Terminal Operators Association of Nigeria (STOAN).
As the Chairman of STOAN and being a woman, do you think she sometimes feels intimidated while in the midst of other port operators who are mostly men?
At the beginning, when she first came into the industry, when we are getting started in 2006, she felt a little bit intimidated because of knowledge but because she is such a fast learner, she was able to pick up how port operations work including how the agencies such as Nigerian Ports Authority (NPA), Nigerian Shippers Council work and how the customers interacted with the company and so she was able to pick it up really fast. So when she started to go to meetings with all the other Managing Directors who are mainly male, she was able to stand her ground and speak for herself. When it comes to certain ways of doing business, she knows how the business environment works well in Nigeria having worked at the Nigerian National Petroleum Corporation (NNPC). She knows how the business environment works well in Nigeria and so she was able to actually outshine a lot of the expatriates that were running the other terminals. They saw the advantage of being a part of the terminal operators association and that was why they made her Chairman of STOAN. For the other big terminals like APMT, ABTL to support her to become STOAN Chairman, that tells you that she gained their respect very fast and being a strong-willed person, she determined what a lot of the terminals were doing at the time when the concession started.
ENL Terminal has the highest number of dockworkers in Nigerian ports. How has Princess Haastrup been able to manage the workers over the years without industrial unrest?
Like everybody in the company as well as the dockworkers, they have learnt to know her over the period of time. When she first came in, she was very difficult and tough on the dockworkers. She was always at the port every day, she was even at the main gate as security keeping anybody from stealing any of the products that were inside the terminal and it took the dockworkers a while to get used to her in the way she works and what she expected from them. But as time went on, she was able to gain their respect and over the years with the increases in salaries, the dockworkers were convinced themselves and can testify that they are in a better situation than they were before ENL came. So that gave her the backing to get close to them but made sure that they do what they are supposed to do.
In the case of Princess Haastrup, do you share the view that what a man can do a woman can do better?
Yes. I can say that. When you look at what she has done in the last fourteen years, I don't think any man could have done what she has been able to achieve. I think men look at things more like black and white, very straightforward but Princess Haastrup looks at things very compassionately. She looks at things with a different eye than a man would.
Princess Haastrup is a gender advocate who believes women must be given the opportunity to thrive. Does this reflect at ENL also?
Yes, I have known her as somebody who has worked hard in trying to help other women in the different companies of the sector and at ENL. She has worked very hard to see that women succeed in the shipping industry. She has always been an advocate for women to get into the maritime industry because the industry needs that touch that only a woman can provide. For us at ENL, we have women in strategic positions. As a woman, I can say that she has made a big difference at ENL and at the seaport terminals.
She has provided support in terms of funding to a lot of our staff children and also people in their area to go to school.
Let's talk about your operations at ENL. So far how has business been especially with some government policies on food import?
So far, it has been very difficult over the years. When we started, we were doing up to about 4.5 million tonnes of cargo a year. Then government policies started changing when they banned cement, rice and fish, all of which are our main commodities. That really affected our operation. We dropped down about 50 percent of the amount of cargo we handle so we then have to change the different types of cargo that we were getting and concentrate more on general cargoes. So we had to adapt based on policy changes in Nigeria but it affected our overall total tonnage. Then, we were doing 4.5million tonnes but now we are doing below 2 million tonnes.
Copyright Ships & Ports Ltd. Permission to use quotations from this article is granted subject to appropriate credit given to www.shipsandports.com.ng as the source.