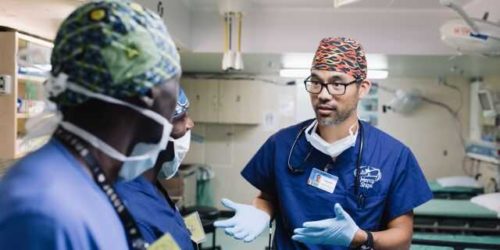 Mercy Ships is celebrating its 100,000th surgical procedure by medical volunteers onboard its charity hospital ships.
The milestone procedure was performed on baby born with a debilitating cleft lip in Guinea.
The nonprofit says the 7-month-old child, named Aissata, traveled with her mother nearly 200 miles to receive the surgery on the hospital ship, the Africa Mercy, which has provided free surgeries to more than 2,100 people in Guinea since arriving in August.
For Mercy Ships, the milestone represents an important point in the organization's 40-year legacy, which began in 1978. The child's family is among the world's estimated 5 billion people who do not have access to safe, affordable, timely surgery. In sub-Saharan Africa specifically, 93 percent of the population can't get the surgery it needs.
Mercy Ships hospital ships are staffed by volunteers who are deployed to the places where surgeons are needed most. These surgeons also train local medical professionals who will stay in their home countries.
Dr. Phil Freeman, a maxillofacial surgeon from Texas, is one of nearly 400 volunteers currently serving onboard the hospital ship Africa Mercy.
"Providing healing for others is the reason we become medical professionals in the first place. The need for surgical care is universal. With Mercy Ships, I'm able to provide the same healing we would in America to patients like Aissata who otherwise would never receive the care they deserve," Freeman said. 
Left untreated, cleft lip can lead to malnutrition if infants are unable to nurse, and it can lead to social exclusion or stigmatization as the children grow older. In the developed world, the condition is easily treated during infancy, but unfortunately that's not the case in places where access to surgery is limited or even non-existent.
"Our surgical program changes the entire course of our patients' lives. And by forming partnerships with African nations, together we are building a powerful legacy of hope and healing that's contributing to the overall development of West and Central Africa," said Donovan Palmer, CEO of Mercy Ships. 
After Mercy Ships completes its fourth surgical visit in Guinea in June, the Africa Mercy will sail for Senegal in August.
Africa Mercy has been Mercy Ships' only hospital ship in service since joining the fleet in 2007, but the nonprofit has remained committed to expanding its fleet.  
Copyright Ships & Ports Ltd. Permission to use quotations from this article is granted subject to appropriate credit given to www.shipsandports.com.ng as the source.