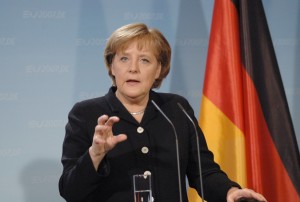 Hidden by pine forests near the deserted site of what was once East Germany's biggest nuclear reactor, two shiny pipelines emerge from the Baltic Sea to mark the spot where Chancellor Angela Merkel is trying to secure the country's energy future.
Not far from the Hanseatic town of Greifswald — an area Merkel represents in parliament — the chancellor wants a $10 billion pipeline expansion built to increase the amount of Russian natural gas imported from Siberia, more than 3,000 kilometers (1,864 miles) away.
The project, led by Russia's state-run Gazprom PJSC, is intended to bolster German confidence that it has enough gas to underpin an unprecedented transition from the coal and nuclear plants, which are being closed, to a future dominated by renewable energy.
But the plan has opponents, both close to home and further afield.
People living in the sparsely populated area have filed almost 160 objections. Local approval is still pending and the site also requires removal of two shipwrecks sunk by the Swedish navy in the 18th century. European allies have also objected — worried that the project will deepen Europe's reliance on supplies from an increasingly antagonistic Russia — and U.S. lawmakers have proposed stiffer sanctions on energy companies that do business with Russia.
"There are not many other places apart from Russia where Germany can get a lot of gas quickly," said Jonathan Stern, chairman and senior research fellow at the Natural Gas Research Programme of the Oxford Institute for Energy Studies.
Already Europe's biggest gas user, Germany gets about 40 percent of what it consumes from Russia, the world's largest exporter, according to industry consultant Wood Mackenzie Ltd. in London. That dependence is only going to increase by 2025 to more than 50 percent, especially with output from the Netherlands, Germany's western neighbor, set to drop in coming years.
The Gazprom project, known as Nord Stream 2, also will allow for deliveries elsewhere in Europe, making Germany an even more important hub for distributions across the continent. Russia already supplies more than 20 countries with gas used to run power plants, heat homes and make chemicals.
The existing link was commissioned in 2011 and runs for 1,224 kilometers under the Baltic Sea from Vyborg, Russia, to Lubmin in Germany. It is able to carry 55 billion cubic meters of gas, or two-thirds of German gas demand, and the expansion will double that.
"Nord Stream 2 isn't only about meeting additional demand, it's also about adjusting gas supplies towards the most cost-efficient routes," Gergely Molnar, an analyst at Wood Mackenzie in London, said by phone.
Transporting gas through Nord Stream to Germany is about 40 percent cheaper than through land-based pipes via Ukraine, according to Molnar. Russian gas at the German border cost $5.07 a million British thermal units in May, up 28 percent from a 12-year low in September but 45 percent below its 10-year average, according to International Monetary Fund data.
Germany, the U.K., France, Belgium and the Netherlands will likely benefit from lower prices, according to Brussels-based think tank Bruegel. Gazprom would also avoid transit fees paid to use pipelines in Ukraine and Poland, Bruegel said. The company plans to reduce flows via Ukraine after 2019.
Germany's approval procedures mean that infrastructure projects can be delayed by local opposition. A hearing is scheduled to start July 17 in Stralsund, Germany, according to the Ministry of Energy and Infrastructure in the state of Mecklenburg-Vorpommern.
Meanwhile, time is running out for Merkel to help Germany meet its 2020 climate goals. Despite the transition known as the Energiewende, the country is at risk of missing its target to reduce carbon emissions by 40 percent from 1990 levels.
After federal elections in September, the new government may have to present proposals for closing down power plants that run on coal, which still provides about 40 percent of the nation's electricity generation. Merkel's ruling Christian Democratic Union foresees a "mid- to long-term" exit from lignite and coal, according to their 76-page manifesto published Monday.
Gas may provide a fifth of Germany's power in five years, almost double current levels, according to HSBC Holdings Ltd.
Germany's journey toward a renewable energy system began almost two decades ago. The policy shift intensified after Japan's Fukushima nuclear disaster in 2011, which led to Merkel's decision to exit atomic energy by 2022.
"In the long term, Europe needs new volumes of imported gas from reliable suppliers, and the Nord Stream project will become that lifebuoy," Gazprom Deputy Chief Executive Officer Alexander Medvedev said in Berlin on June 15.
Nord Stream 2 would "definitely be an additional option" to increase imports, according to Stefan Rolle, head of gas and oil markets and crisis prevention at the German Economy Ministry. "Gas is only a transition technology" to meet the nation's climate goals, he said.
Gas demand for power production may peak in 2025 before being replaced with wind and solar, according to Wood Mackenzie. The country aims to produce as much as 80 percent of its electricity from renewable sources by 2050.
Germany's gas network is already well connected, with pipelines linking it to Norway and to liquefied natural gas terminals in Belgium and the Netherlands.
"Current capacities are sufficient even if gas-fired power plants will run more," said Claudia Kemfert, head of the energy unit at the DIW economic institute, a Berlin-based research group. "Nord Stream 2 won't be needed."
Undeterred, Gazprom is forging ahead. About 37,000 12-meter-long pipes are stored at an industrial site bigger than 20 soccer pitches on the island of Ruegen, waiting to be coated with concrete long before being laid on the seabed at an average depth of 50 meters.
While Merkel last month condemned a bill on expanded Russian sanctions approved in the U.S. Senate, she's also one of the harshest critics of Russia. The chancellor, who helped negotiate the Minsk peace agreement aimed at ending violence in Ukraine, has pushed for sanctions to be maintained, arguing that measures can only be dropped once Moscow adheres to the terms of the deal.
"We need gas supplies when coal isn't used anymore," said Klaus-Peter Trapp, a 57 year-old cabinet maker from Greifswald. "This can have consequences if Russia and Germany don't get along well anymore."     ‎