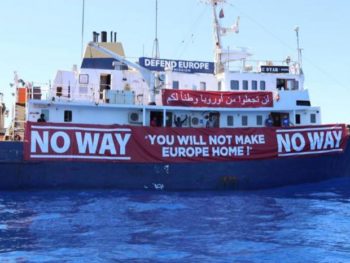 A German humanitarian rescue ship said it was heading on Friday to the aid of a vessel run by a group of far-right activists who are at sea to disrupt the work of charity boats helping migrants in the Mediterranean.
The Sea-Eye charity's founder Michael Buschheuer said the Italian coastguard had asked his ship to set course for the activists' C-Star vessel because it was in distress.
The Identitarian group running C-star, however, denied on Twitter that the vessel was in distress but said it had alerted other vessels because its main engine had stopped due to "a minor technical problem". The Italian coastguard declined to comment.
"C-Star is in distress and we are the closest, so at the moment we have set a course to reach them," Sea-Eye's Buschheuer told Reuters by telephone.
Sea-Eye said on Facebook that the C-Star "had engine damage, was unable to manoeuvre and was in need of assistance".
Supporters of the Identitarian movement have vowed to "defend" Europe from a migrant "invasion" from Africa.
A statement by the group posted on Twitter denied the vessel was in distress.
"C-Star has developed a minor technical problem during the night" it said and the main engine had stopped. Other vessels in the area had been alerted and the problem was "about to be resolved".
Buschheuer told Reuters: "If there is not a big problem and it's just the engine, it's ironic. But a boat in distress is never funny."
The "Defend Europe" activists of Identitarian have struggled to get their mission underway. The C-Star was held up in Egypt and Cyprus, and later refused access to Tunisian ports.
In Cyprus, the crew of the C-Star was stopped on suspicion of smuggling Sri Lankan men to Europe, and then later released.
Calling itself a "patriotic NGO", the group is tapping into growing unease in Europe about immigration from North Africa that has brought some 600,000 impoverished migrants and refugees to Italy in less than four years.
In that time, more than 13,000 have died trying to make the crossing. Since 2014, charity groups have been operating rescue ships that have pulled tens of thousands of migrants from overcrowded and unsafe boats to safety.
Copyright Ships & Ports Ltd. Permission to use quotations from this article is granted subject to appropriate credit given to www.shipsandports.com.ng as the source.