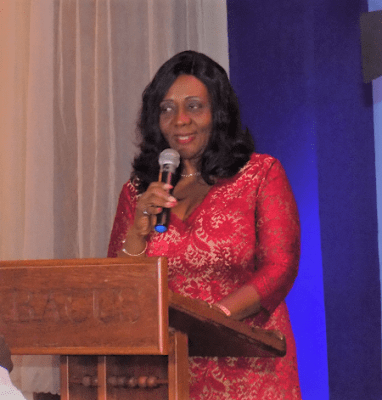 Organizers of MMS Woman of Fortune Hall of Fame (WoFHoF) Initiative on Wednesday recognised and adopted nine women in the maritime transport sector as UN Generation Amazons to mark the United Nations 75th anniversary with a search for the "Third Paradise."
Chief Host and Chairperson of the event, MMS WoFHoF Initiative Board of Trustees, Mrs. Margaret Orakwusi, while highlighting the important role of women in the society said they have the responsibility to make sure that the country stays united.
According to her, the future is women and as mothers of the nation, women have to stand up, seize the moment and make a difference.
"It is our responsibility to make sure that no one, man or woman or a child goes to bed without food. It is our responsibility as women to preach peace, equality and love in this country. It is our responsibility to know what unites us. We are not united by religion, we are not united by the tribes we come from, we are not united by gender. We are united by love, one country, one love, one people. Please let's promote that; let's preach that gospel to our leaders", she said.
In his welcome address, the founder of MMS WoFHoF Initiative, Kingsley Anaroke noted that the Initiative had always been gender and humanity-minded through the support of her great Hall of Famers and Amazons as well as corporate bodies and institutions.
Anaroke observed that this explained why they set aside a day – MMS Hall of Famers'Day for the revered mothers and vision helpers adding that the day was meant to assemble them under one platform to appraise and evaluate their journey on gender parity advocacy and strategy as well as see how much lives had been touched and could be touched through their programmes.
He said," We can see that the Hall of Famers has been "Third Paradise" conscious before the UN at 75 quests for a sustainable future. There is special recognition for nine select agents of sustainability called United Nations (UN) Generation Amazons, women with impeccable value trajectory who have risen and are climbing their different professional ladders.
"They have demonstrated evidently that humanity and the environment should be the preoccupation of everyone. As they work towards taking their positions as MMS Hall of Famers where values, integrity and mentorship are personified in future, we present them to the world today as the faces of the UN search for sustainable paradise."
Anaroke noted that research studies had proven that women invest around 90 per cent of their income into their families and communities thereby reducing poverty and improving health, safety and education for everyone.
"While this calls for more concerted efforts towards educating the girl child for the "Third Paradise", the jostle for the position of the Director General of the World Trade Organization (WTO) by two women finalists is a plus to the global campaign for women empowerment. They are: Dr. Mrs. Ngozi Okonjo-Iweala and Ms Yoo Myung-Hee of South Korea. Another leap is the election of Senator Kamara Harris as the first female Vice President-elect of the United States. Congratulations women!" he added.
While urging more women to go into politics to drive the desired changes, Anaroke called on the federal government to introduce a gender character principle as policy to reflect sensitivity of the UN SDGs on gender equality with 40 percent employment opportunity reservation for women in public and private sectors.