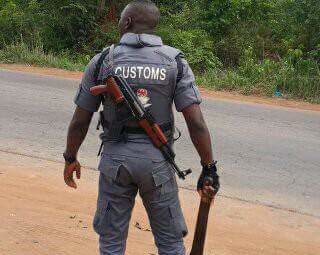 A traditional ruler in the Idiroko community of Ogun State, the Oniko of Ikolaje, Oba John Ojo, has accused officials of the Nigeria Customs Service (NCS) posted to the area of high handedness extortion.
"The people of Idiroko are hungry because of the effect of the border closure. There are too many checkpoints on our roads and it only leads to suffering for road users. Customs officers and other operatives manning the roads are there to extort drivers and passengers alike.
"When we go to other Nigerian communities to buy petrol because of the lack of access in our communities, the security officers on the road make us pay exorbitantly for Nigerian products. They will charge us almost the cost of the fuel.
"Idiroko is not a rice-producing community; that means we still need to get supply from other Nigerian cities or states but the Customs officers on the road make sure they extort and frustrate people bringing goods to our communities. Now, the price we buy the normal Nigerian products is about 30% above normal," Oba Ojo lamented while speaking with SHIPS & PORTS.
The monarch appealed to President Muhammadu Buhari to ease the land border closure, adding that residents are law-abiding and don't deserve the treatment they get in the hands of security officials.
Also speaking with SHIPS & PORTS, a trader in the area, Oluwafemi Johnson, said many Nigerians living in the area are suffering due to the highhandedness of security operatives.
He said, "They have made life unbearable for innocent citizens of border communities, collecting bribes on Nigerian products that we transport down to Idiroko and its axis for sale. All these money are eventually added to the goods for the final consumer."