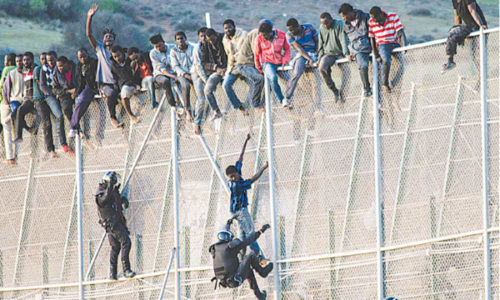 Morocco on Monday said 141 migrants who were arrested a day earlier as they tried to storm a border fence within the Spanish enclave of Melilla, would be deported to their home countries.
One migrant died after falling off the seven-meter high metal barrier on Sunday, while 22 others and 12 security personnel were injured, the interior ministry said.
Around 200 people got over into Melilla and were taken to a reception center, Spanish authorities said. But the rest who failed would be returned to their home countries, Morocco said, without giving details of the nationalities.
Morocco, which other Africans can visit without visas, has become a major gateway for migrants into Europe since Italy' tougher line and European Union aid to the Libyan coastguard curbed the number of people coming from Libya.
More than 6,000 migrants have made it to Melilla and Spain's nearby territory, Ceuta, so far this year, according to the U.N. refugee agency, UNHCR.
Others pay smugglers to get them across the 14 km (9 miles) of sea to Spain.
The vast majority of arrivals in Spain are men, primarily from Guinea, Mali and Morocco, the UNHCR says.
In July, 800 migrants stormed the Ceuta fence triggering a crackdown by Moroccan authorities which has been moving migrants to the south of the country away from the borders with Spain.
Under a bilateral agreement, Spain returned 24 migrants to Morocco on Saturday who had reached the Chafarinas islands, another Spanish territory off the North African coast – and another 116 migrants who had managed to jump the border fence of Ceuta in August.