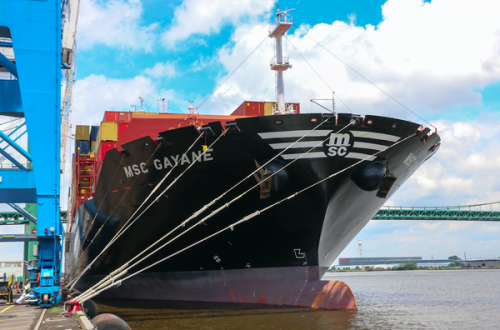 MSC says that the majority of containers on board the vessel MSC Gayane seized following a $1.3 billion cocaine bust in Philadelphia port have been transhipped onto their original destinations.
The MSC Gayane was detained in Philadelphia on 17 June when law enforcement officials found nearly 20 tons of cocaine, worth an estimated $1.3bn, on board the vessel and number of crew members were arrested for their role in the smuggling operation.
"MSC Gayane was en route to northern Europe at the time of the incident, with calls scheduled at Rotterdam, Antwerp and Le Havre. Aside from a small number of containers, which have been held by the authorities as part of their ongoing investigations, all cargoes on the MSC Gayane have been transhipped to other MSC vessels and sent on to their respective destinations," MSC said in a statement.
Although MSC itself is not a target of US investigations into drug smuggling it has had its C-TPAT certification, which expedites customs procedures in the US, temporarily suspended.
"We are actively seeking to assure the authorities that our certification can be reinstated as soon as possible," the container line said.
The vessel, owned by JP Morgan, has been seized by US Customs and Border Protection (CBP) on 4 July and could be forfeited.
Casey Durst, CBP's director of field operations in Baltimore, said: "Seizing a vessel of this size is an unusual enforcement action for CBP, but is indicative of the serious consequences associated with an alleged conspiracy by crewmembers and others to smuggle a record load of dangerous drugs through the United States.
"This action serves as a reminder for all shipping lines and vessel masters of their responsibilities under US and international law to implement and enforce stringent security measures to prevent smuggling attempts such as this."
MSC said the NWC-USA-SAWC service on which the vessel was deployed continues to operate normally as do all its other US services.