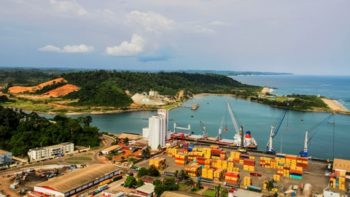 Mediterranean Shipping Company (MSC) has signed a 35-year concession agreement with Ivory Coast's second port of San Pedro to operate its container terminal as part of a deal to upgrade the facility, the Swiss shipping company said on Tuesday.
Ivory Coast is the world's leading producer of cocoa, and over half of its total output is exported via the port of San Pedro, which is located near the main western growing regions. The country's main port is Abidjan, which is one of the region's busiest.
Investments for upgrades to the port will total nearly 300 billion CFA francs ($510 million), including around 130 billion CFA francs from MSC, the company said in a statement.
The Ivorian government said last year that the Bilal Group would partner with the Port of San Pedro and MSC on the project, which includes the displacement and extension of the port's container terminal.
MSC said that the improvements would allow cargo vessels with a capacity of 14,000 twenty-foot equivalent units (TEU) to berth in San Pedro and help it to become one of West Africa's most competitive transhipment hubs.
Ivory Coast, West Africa's largest economy, emerged from a decade of political turmoil and civil wars in 2011. It now ranks among the world's fastest growing economies and is one of the continent's top destinations for foreign investment.