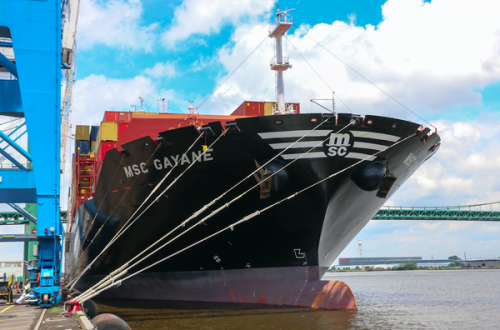 Mediterranean Shipping Company (MSC) has said that it is "assisting and cooperating in any possible way with the authorities" related to the drug trafficking operation involving its Neopanamax ship, the MSC Gayane.
MSC also said that it is not the target of the U.S. investigation that was launched after Customs authorities found almost 20 tons of cocaine on one of its containerships.
U.S. authorities detected anomalies in seven shipping containers and extracted 39,525 pounds of cocaine from containers aboard the ship after it was searched at the Packer Marine Terminal in Philadelphia on June 17.
As a result of that operation, MSC Gayane was seized on July 4 and is "subject to a possible forfeiture", William McSwain, U.S. Attorney for the Eastern District of Pennsylvania, had said.
The incident led to a temporary suspension of MSC's C-TPAT certification.
"We are actively seeking to assure the authorities that our certification can be reinstated as soon as possible," MSC said, adding that, notwithstanding this temporary status, the company continues to comply with all the requirements of the C-TPAT programme and security criteria for ocean carriers.
MSC Gayane was en route to northern Europe at the time of the incident, with calls scheduled at Rotterdam, Antwerp and Le Havre. Aside from a small number of containers, which have been held by the authorities as part of their ongoing investigations, all cargoes on the MSC Gayane have been transshipped to other MSC vessels and sent on to their respective destinations.