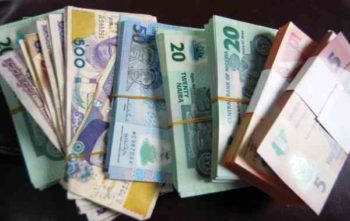 The Central Bank of Nigeria has condemned the mutilation of naira notes, saying it represents an abuse on national sovereignty.
The CBN's acting Director of Corporate Communications, Isaac Okorafor, on Wednesday in Abuja said the mutilation of the naira as perpetrated by members of the public at wedding ceremonies and parties end up damaging the currency.
He, therefore, called on Nigerians to treat the nation's currency with respect.
"You see it is unfortunate that Nigerians do not take pride in symbols of our national sovereignty.
"The Naira is a symbol of our National sovereignty.
"We have embarked on sensitisation across the nation and we have gone to 28 states of the federation in the last one year, trying to tell Nigerians how to identify fake Naira notes, counterfeits notes and how to handle the naira with care.
"In some cases, we have distributed wallets so that people can put their money neatly.
"For us, it is so frustrating that not many Nigerians are listening to it.
"We spend a lot of money printing these bank notes.
"And we print a bank note, release a bank note on a Friday, people go to parties they dance on them.
"They go to churches, they squeeze it and put it in offering and by Monday it is already old and mutilated and we spend hundreds of billions of Naira to print these notes.
"It is so unfortunate.''
He said that under no circumstance should the Naira be squeezed or reduced to a piece of paper for writing.
On hawking and sale of newly printed Naira notes, popularly known as "mints'', Okorafor said that the apex bank was working with the police to stop the illegal practice.
Section 20 and 21 of the CBN Act recommends that whoever sells, buys, sprays and squeeze the naira, will be imprisoned for six months or given an option of N50,000 fine, or both.
Okorafor said that the police carried out raids in Abuja and Lagos, where mint vendors were arrested and their monies seized.
"On our side internally, we have made it clear to all that any CBN staff that is found complicit in any of this act, will be summarily dismissed.
"That is our position,'' he said.
The CBN spokesman also gave reasons why there are so many mutilated Naira notes in circulation, especially the lower denominations.
"The first one is the fact that people handle these notes so badly and so within a short while they don't get to their lifespan anymore and for the lower denomination notes, they have a higher velocity of circulation.
"What that means is that you use it more often and as you use it in exchange, it gets worn out it gets torn more frequently. So that also creates another problem.
"Another factor is that the banks that have the duty to bring back to us mutilated notes do not do their jobs well.
"Banks are supposed to sort the notes into unfit notes and then when they are bringing the notes back to us, they bring those ones that they have sorted and brought out as unfit and worn out.
"But they don't do that. And what we do, if they bring it back to us like that, we do the sorting and charge them because it is a job they have failed to do.
"But then, what we have discovered is that banks instead of bringing these notes like that for us to sort them and charge them, they will re-circulate it.''
Okorafor said that the apex bank would soon release new regulations concerning the role of banks in taking mutilated notes out of circulation.
The CBN spokesman stated that the bank plans to print more money, especially the lower denominations, to ease pressure on the Naira notes already in circulation.