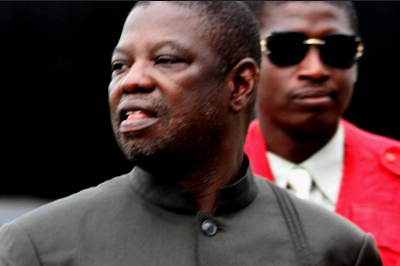 A former Acting Director-General of the Nigerian Maritime Administration and Safety Agency (NIMASA), Haruna Jauro, on Monday ended his defence in his money laundering trial at the Federal High Court in Lagos.
Justice Mojisola Olatoregun adjourned until June 20 for adoption of final addresses, following which a date for judgment will be fixed.
The Economic and Financial Crimes Commission (EFCC) arraigned Jauro on April 12, 2016 along with Dr. Dauda Bawa and Thlumbau Enterprises Limited on 19 counts of converting N304.1 million from NIMASA, to which they pleaded not guilty.
Jauro assumed NIMASA leadership after Dr Patrick Akpobolokemi, who is also on trial, left the position.
Justice Olatoregun adjourned after the defence informed the court that it had closed its case following the recall of the third prosecution witness (PW3), Barnabas Ishaku.
Jauro had proposed plea bargain with the EFCC in the course of trial.
His lead counsel Babajide Koku (SAN) told the court on October 23, 2016 about the proposal, with Justice Olatoregun urging the parties to reach an agreement without delay.
But, another defence counsel, Olalekan Ojo (SAN), informed the court that the plea bargain talks had broken down and that Jauro was ready to proceed with the trial.
The defendants were accused of committing the alleged offence in NIMASA between January 2014 and September 2015.
EFCC said they conspired on January 6, 2014, to convert N156, 477,500 belonging to NIMASA, knowing the money was stolen.
They also allegedly converted N38, 170,000 between June 3 and September 1, 2014, "knowing that the sums were proceeds of stealing, and thereby committed an offence contrary to Section 15 (1) of the Money Laundering (Prohibition) (Amendment) Act, 2012 and punishable under Section 15(3)."
EFCC said on May 30 and August 14, 2014, they converted N8, 500,000.00, property of NIMASA. The prosecution said they did so "knowing that the sums were proceeds of bribery".