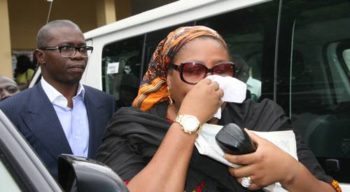 By John Omoaka
The Appeal Court sitting in Lagos on Friday upturned a 10-year jail term passed on the Managing Director of Ontario Oil and Gas, Mrs. Ada Ugo-Ngali, by an Ikeja High Court of Lagos state.
Justice Lateefa Okunnu of the Lagos High Court had on January 13, 2017, convicted and sentenced Ada Ugo-Ngali, to a jail term of 10 years for a fuel subsidy fraud of N754 million, alongside the company chairman, Walter Wagbatsoma, who is currently a jail term in United Kingdom.
The judge had also ordered the refund of the N754m to the Federal Government.
Both the company's managing director and chairman were charged and arraigned before Justice Okunnu on an eight-count charge by the Economic and Financial Crimes Commission (EFCC).
The EFCC had on August 1, 2013 arraigned Ngo-Ngali, Wagbatsoma and their company, accusing them of defrauding the Federal Government of N1.9 billion, which they fraudulently obtained as subsidy sum for purportedly importing premium motor spirit into the country.
Also charged with the three convicts was an official of the Petroleum Products Price and Regulatory Agency (PPRA) Babafemi Fakuade, who was, however, discharged and acquitted by the judge on January 13.
Dissatisfied with the lower court, Ugo-Ngali through her lawyer, Chief Uweche, approached the Appeal Court to upturn the judgment, in an appeal marked CA/L/348C/17, dated February 9, 2017.
The appellant had urged the upper court to discharge her of the conviction on the ground that she cannot be sentenced in the absence of her co-accused.
Delivering lead judgment in the appeal, the presiding judge, Justice M. L. Garba, held that "upon reading the record of appeal and respective briefs of argument filed on behalf of both parties, it is ordered that for being a nullity the proceedings by High court, in the Court of Appeal trial of the appellant and others appellants in appeal CA/L/348c/17, and CA/L/389c/17, including the judgment delivered on January 13, 2017, convicting them of the offences they were tried for and the sentenced passed on them on January 26, 2017, in the absence of appellant in CA/L/348c/17, are hereby set aside.
"That in consequence, the conviction and sentence of the appellant in the said judgment are quashed and the appellant discharged and acquitted accordingly."
Other members of the panel, which include Justice J.S. Ikjegh and Justice Y. Nimper, agreed with the lead judgment.
Copyright Ships & Ports Ltd. Permission to use quotations from this article is granted subject to appropriate credit given to www.shipsandports.com.ng as the source.