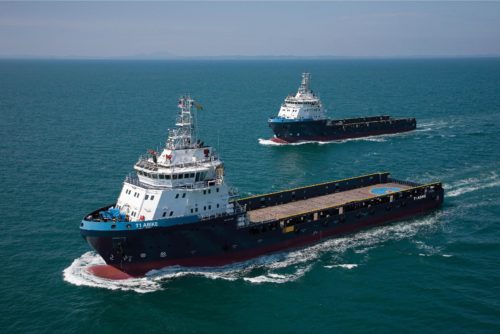 More than two years after the Federal Government announced plans to float a national fleet, setting a deadline of six months, there are strong indications that the much touted national carrier may not arrive anytime soon.
Recall that a national fleet implementation committee headed by the Nigerian Shippers Council was set up by the Minister of Transport, Rotimi Ameachi to drive the project.
The committee as part of its efforts to attract foreign investors had signed a Memorandum of Understanding (MoU) in 2016 with Singaporean shipping company, PIL to establish a private-sector driven national carrier with stake- holding of 60 to 40 per cent respectively.
While PIL is expected to own 40 per cent of the stake, private Nigerian ship operators are expected to own the other 60 per cent.
PIL, however pulled out of the agreement due to Nigeria's unfavourable tax laws causing major setback for the project.
Speaking of the development, President, Ship Owners Association of Nigeria (SOAN), Greg Ogbeifun, stated that unless the government review some of its tax laws to serve as incentives to both local and foreign investors, it will be difficult to establish any competitive international fleet.
He said, "If you look at the Nigerian Investment Promotion Council compendium, you will see all incentives that are granted to different sectors of the economy including aviation but there is nothing on shipping or maritime and all the other sectors depends on maritime because almost 80 to 90 percent of our import and export are carried by ships, so there is a very major omission."
Ogbeifun however noted that the implementation committee has been engaging the Government and its agencies on the need to see the importance of addressing the issue of incentives.
"We have taken the issue up to the Vice President and a committee headed by the Minister for Trade and Industry has been set up to look into the issue and see how they can be addressed to help the country being in a position to establish a national fleet. When government captures these incentives into the compendium of the Promotion Council, it will attract both local and foreign investors.
"The support we are trying to get from government is ensure that anybody who wants to buy a ship and fly a Nigerian flag will enjoy tax holiday, zero duty and other incentives that other countries have put in place to enable them run otherwise we cannot be competitive. Physical incentive is a prerequisite to the establishment of national fleet," he said.
Executive Secretary, Nigerian Shippers Council, Hassan Bello, assured that the committee is working to address all identified challenges, which led to the delay in the establishment of the national carrier.
Bello, who is also the Chairman of the Implementation committee, said government's desire is to create not just an effective but a sustainable national fleet that can stand the test of time.
"Buying ships is not just to pick some things off the shelve. That is why we delayed because if we wanted, we could just get some ships and said, this is the national carrier and two days later, we pick it out. But we need sustainable and enduring national fleet, not a fleet that is just fleeting and we are working very hard to actualize this.
"A lot of work has been done but we have to look at the tax laws, the flag administration, the banks, insurance and then we are good to go. It is a three year project. So we have to clean up everything. Now we are talking with the Federal Inland Revenue Service (FIRS), Customs and other agencies. We have had several meetings and they are going to give the concession now under the Chairmanship of the Vice President. He (Vice Chairman) said we should go and see what concession we can get for shipping and we are doing that because why PIL opted out was because the atmosphere was not friendly.
"Even the laws, we will have to change some of them, so we have been meeting. As a matter of fact, we met with the Minister of budget, who is arranging a lap where all the investors will come and we will tell them we are going to give them tax holidays for certain service and that they will be entitled to all the cargo. When we have national carrier of about 10 ships, they will have more work to do than any other thing. But we need experts also. We need to have our crew there. That is why we have to make reforms at the Maritime Academy, Oron. So many things are involved," he told SHIPS & PORTS DAILY.