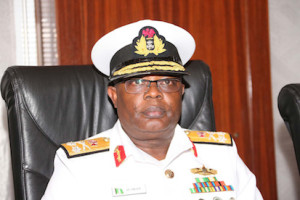 The Chief of Naval Staff, Rear Adm. Ibok-Ete Ibas, has urged the Federal Government to give it more consideration in the intervention projects of the Presidential Committee on Barracks Rehabilitation.
Ibas made the call at the inauguration of the Nigerian Navy Officers' reconstructed Quarters in Abuja on Wednesday.
He said that the reconstructed quarters had the capacity to accommodate 66 officers as against 18 officers quartered in its former state.
He, however, said in spite of the laudable project being inaugurated, there was still a significant gap in the accommodation of officers of the navy in Abuja and across the nation.
Ibas said, "The Nigerian Navy is currently only able to cater for the permanent accommodation of about 6,067 personnel which represents less than 30 percent of its total accommodation needs.
"Additionally, due to the peculiarity of military deployments, transit accommodation is also required to quarter personnel serving outside the locations of their permanent residence.
"To this end, only about 4,505 personnel or less than 40 percent of the required transit accommodation has been achieved, with a projected annual intake of about 2,500 ratings and 200 officers."
The naval chief said the accommodation situation would continue to worsen if deliberate steps were not taken in the short and medium terms to match the intake with accommodation.
He said, "I would, therefore, seize the opportune presence of the Permanent Secretary, to appeal for the Nigerian Navy to be accorded more consideration in the intervention projects of the Presidential Committee on Barracks Rehabilitation."
Ibas thanked the Permanent Secretary, Ministry of Defence, Nuratu Batagarawa, for her presence at the inauguration of the Naval quarters. He said that her presence was a testimony of her unflinching support to the Nigerian Navy in its efforts at meeting some of the welfare needs of its personnel.
Batagarawa said she was delighted to witness the unveiling of the newly-reconstructed quarters.
She expressed optimism that the edifice would boost the morale of the personnel toward enhancing their performance in nation-building.
The permanent secretary assured the Navy personnel that the Federal Government had already commenced work on the barrack intervention project.
She noted that the welfare of the Armed Forces would continue to be the priority of the Federal Government.