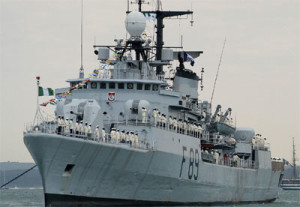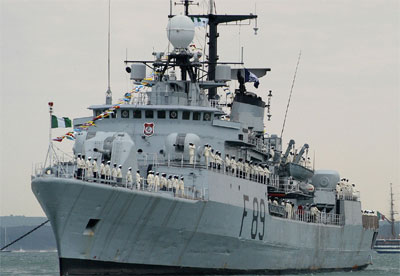 The Nigerian Navy has deployed four warships and two helicopters in a joint multinational maritime exercise codenamed "Obangame".
The exercise tagged "Obangame Express 2018" has navies from 26 countries participating in the exercise.
The Chief of Naval Staff, Vice Adm. Ibok Ibas, on Thursday, flagged off the exercise on the Nigerian Navy Ship (NNS) Okpabana at Onne, Rivers State.
Ibas who was represented by the Chief of Transformation, Rear Adm. Bgroy Ebe-Ibenwo, said the exercise was aimed at promoting inter-agency and transnational cooperation on maritime safety and security, especially in the Gulf of Guinea.
According to him, the exercise, which ends on March 27, will be conducted simultaneously in various countries.
He said: "Essentially, the exercise is running simultaneously in various countries.
"Our ships will be participating alongside some international forces like Portugal and France.
"We will be looking at the anti-piracy situation where we can improve on how we can board the vessels that are engaging in this illegality.
"NNS Okpabana, NNS Unity, NNS Sagbama Okpabana, Karaduwa and one helicopter will be deployed for the exercise.
"The exercise is designed to promote regional cooperation among navies in the Gulf of Guinea."
Ibas disclosed that the challenges facing the Nigerian Navy on the backwaters were on the decline.
He added that in the course of the exercise, the Navy would review the backwaters to improve on how the illegality could be curbed.
"Obangame Express" is a multinational maritime exercise sponsored by the United States, Africa Command that brings together African, Europeans and U.S. Naval forces.
Some of the countries that are participating include France, Cameroon, Cote d'Ívoire, Democratic Republic of Congo, France and many more.
The exercise will be conducted along with regional organisations like the Economic Community of West African States (ECOWAS) and the Economic Community of Central African States (ECCAS).
The ships will perform several exercises with intent to create realistic scenarios that reflect past piracy incidents, whereby a hijacked vessel will transit from one territory to another.
The exercise is grouped into four phases, stretching from Nigerian border with Cameroon to the Benin Republic, which is two-thirds of the entire Gulf of Guinea.