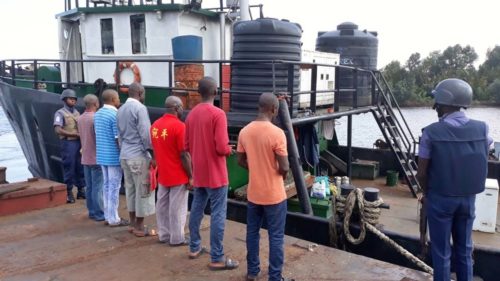 The Nigerian Navy has handed over four suspects and one vessel allegedly
involved in illegal oil bunkering to the Economic and Financial Crimes
Commission (EFCC), Benin Zonal Office for further investigation and possible prosecution.
EFCC spokesman, Tony Orilade, in a statement issued on Monday said naval
officers of the NNS DELTA arrested the suspects, identified as Promise Onate, Emonefe Stanley, Samson Obaje and Peresey Friday, aboard the vessel, MV Enterprise, at Nana Creek Escravos, Delta State, on December 4.
According to Orilade, they were arrested on the suspicion that they were conveying Automotive Gas Oil (AGO) without valid approval.
Captain P.G. Yilme, who represented the NNS Commander at the handover in
Warri, Delta State, said, "After forensic analysis of the product by officials of Department of Petroleum Resources, DPR, the result revealed that the products on board were poorly refined AGO."
An EFCC operative, Richard Ogberagha, who received the suspects and the
vessel, said, "The commission will carry out further investigation and ensure that those found culpable are brought to book."