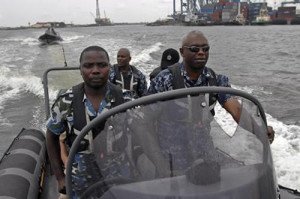 Naval operatives from NNS BEECROFT as well as policemen from the Marine unit are presently combing the creeks in Epe and Ikorodu in search for suspected kidnappers of five workers at Eliasa farm in Igbodu.
 The five farmers and two members of the Oodua People's Congress were abducted on Tuesday from Eliasa farm in Igbodu area of Epe.
The latest kidnap case is coming barely 24-hours after the release of the secretary of Isheri North Landlord Association, Dayo Adekoya. He was abducted last Thursday by suspected militants who stormed their estate.
The Lagos State Commissioner of Police, Fatai Owoseni, has ordered detectives from the marine police to carry out manhunt for the gunmen.
Investigation revealed that the two OPC were employed by the farm owner to provide security at the farm when kidnapping in the community was on the increase in the area.
After abducting the two OPC and the farm workers, the victims were matched through the forest into three boats hidden by the riverside.
As at the time of filing this report, the kidnappers have not contacted the farm management.