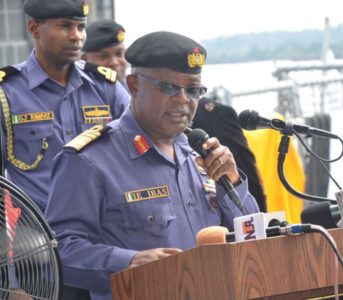 By Godspower Edoza 
The Chief of Naval Staff (CNS), Vice Adm. Ibok-Ete Ibas, has warned the Niger Delta Avengers against threat to resume destruction and bombing of oil facilities in the Niger Delta.
The militant group had recently announced plans to resume hostilities, claiming that the Federal Government had not fulfilled its promise to redress situations in the region.
Speaking to newsmen on Tuesday at the Headquarters of the Eastern Naval Command in Calabar, Ibas said no group had the strength to threaten the peace and unity of Nigeria.
The CNS, who had an extensive interaction with officers and ratings across all formations under the Eastern Naval Command, said that the navy was prepared to confront any threat in the region.
"We are prepared for any group that threatens the unity and peace of our country. We are ready to stop all forms of illegal activities on our nation's economic resources.
"I am here to carry out an appraisal on the activities of all mobile units ashore, training establishment as well as exercise the fleet later.
"No individual or group including the Niger Delta Avengers has the audacity to threaten the country and we will also make sure that Nigerians can use the maritime space unhindered.
"We have in the last two years made a considerable impact of reducing the operations of pirates," he said.
He said that the presence of the Navy had given rise to maritime commerce, and that there had been remarkable improvement on the number of ships that were coming into the country.
Ibas explained that the recent acquisition of 150 boats by Nigerian Navy which was produced by an indigenous company `Epenal Boat', had created positive impact in the navy.
"Most great nations are nations that are able to take their destiny in their hands.
"I believe that Nigeria could look inwards and develop boats. We have identified that we have an indigenous boat company and we decided to try them, out given the type of challenges that we have," he said.
He also disclosed that the Navy had on Nov. 12 arrested six pirates that had attempted to hijack a ship, adding that the impact of the navy on sea had given rise to increased maritime activities.  
Copyright Ships & Ports Ltd. Permission to use quotations from this article is granted subject to appropriate credit given to www.shipsandports.com.ng as the source.