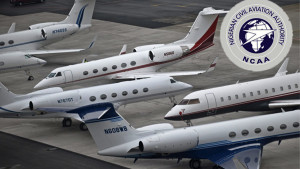 The Nigerian Civil Aviation Authority (NCAA) has issued an All Operators Letter (AOL) 070 to airline operators in Nigeria requiring mandatory compliance with the United States Federal Aviation Administration (FAA) Emergency Airworthiness Directive with immediate effect.
The directive came as an aftermath of the recent incidence in the US where one of the engines of Boeing 737-700 aircraft belonging to Southwest Airline was engulfed in fire mid-air.
As a result, US authorities issued the directive on all airlines operating in America.
NCAA said in a statement by its spokesperson, Sam Adurogboye, that the AOL which was signed by Engr.Kayode Ajiboye on behalf of Director General of NCAA, Capt Muhtar Usman, dated 23rd April 2018 was addressed to all airlines and aircraft owners, is for immediate compliance.
The agency explained that upon the receipt of FAA Emergency Airworthiness Directive AD 2018-09-51, it swung into action by carrying out a review on all the airlines to determine the operators of aircraft type with CFM56-7B engines that are essentially affected by the circular.
Findings, however, show that only two (2) operators have the aircraft type in question in their fleet.
According to the NCAA, "the good news is that they are yet to reach the 30,000 cycles to which the Emergency AD requires immediate ultrasonic inspection of the fan blades within 20 days."
NCAA however, went ahead to notify all the Nigerian operators about this development to enable them carry out the required inspection when it is eventually due.
One of the country's major carriers, Air Peace had issued a statement saying it does not have the B737-700 aircraft in its fleet.
The NCAA, however, assured air travellers that it will continue to enforce compliance with Safety Regulations at all times for a safer aviation, saying any violation will be treated in line with the provisions of the Nigerian Civil Aviation Regulations (NCARs).