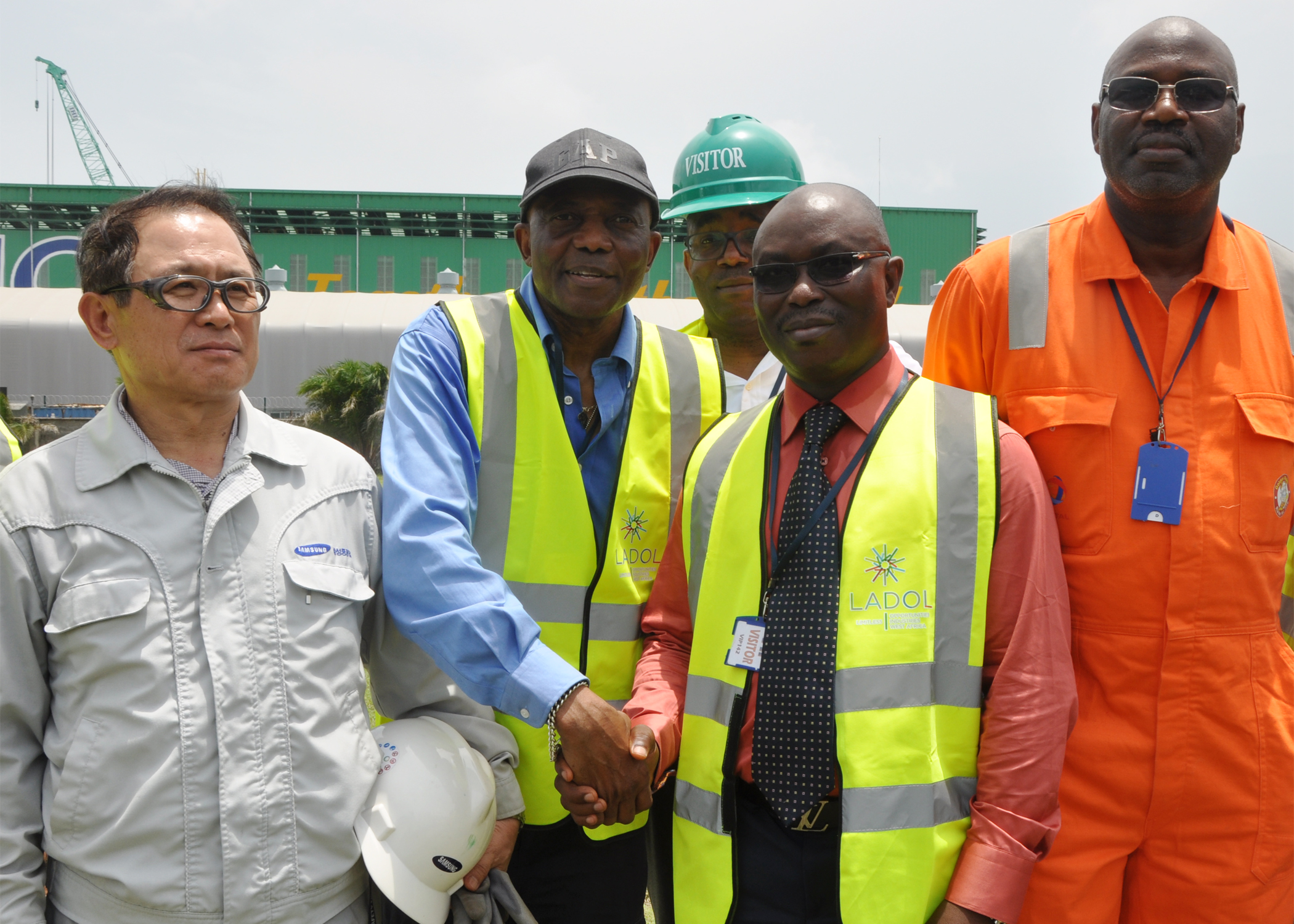 Journey into full realization of the $3.8 billion Egina Floating Production Storage and Offtake (FPSO) oil platform reached another milestone yesterday with the site tour by government agents and other concerned stakeholders who described work at the Lagos Deep Offshore Logistics Base (LADOL) as impressive and meeting international standards.
Fabrication and construction of the Egina project was awarded to Samsung Heavy Industry (SHI) in 2013 to build a world-class oil production platform in Nigeria with the Lagos Deep Offshore Logistics Base (LADOL), acting as the local content partner.
Executive Secretary of the Nigerian Content Development and Monitoring Board (NCDMB), Engnr Daziba Patrick Obah, and Deputy Managing Director of Total, Musa Kida,  led a team of representatives of other International Oil Companies (IOCs) and top managers of Gulf Trade bank (GTB), on an inspection tour of the project site at LADOL base in Tarkwa Bay, Apapa, Lagos yesterday.
The team comprising of representatives of IOCs such as ENI, Chevron, Agip, Shell, Ezon Mobil, to mention a few, were received by the Executive Chairman of LADOL, Mr. Ladi Jadesimi.
The stakeholders who took turns to speak with newsmen after a tour of the project site were unanimous that the FPSO is indeed a game changer for the nation's economy and capable of seeing the country leap into her quest of being in the G30 by the year 2020.
First to speak, DGM of Total and leader of the IOC representatives, Musa Kida said his company was proud to be associated with such a project, which he described as first of its kind in Africa.
According to him, Total's support and confidence in bringing the project to Nigeria was influenced by the Nigerian Content initiative, which was passed into law as the Nigerian Content Act 2010. "Our visit today is very important. We are here to appraise work on our noble support for the Nigerian content …we have participated actively and supported fully the facility that you are seeing today.
"This is a clear demonstration that Total supports the law and the nation's economy. This project is first of its kind in Africa, since none like this has ever been built in Nigeria or elsewhere in the region before.
For Total, this represents not only our commitment to Nigeria…not just the cost, but it does represents a lot of money invested and this money is also a symbol of the fact that Total strongly believes the Nigerian Content is here to stay.
"It was a huge technical struggle in taking the risk to believe that this integration can indeed take place here or anywhere in Nigeria. Now it has remained our pride for taking this step, and we remain committed to it" he said.
To this end, the Total oil chief appealed to government and other IOcs not to make the Egina fabrication "a one-off project that will seize to attract other projects.
"This facility has been built to international standards, and Total is very comfortable with work her so far as we believe that base is capable of fabricating very huge modules that will be utilized in the FPSO. Egina installation will be side-by-side here by early next year, so it is going to be more impressive. My appeal therefore is that my colleagues in the oil industry should sustain this good beginning by ensuring that other FPSOs are done here at LADOL base" he added.
He therefore called on the management of the content board to continue its supports for LADOL and SHI in seeing to the full realization of the project , so that it will not end up as a one-project stuff. With the success of this project at LADOL, I believe others will spring up and this will give room for competition.
Also speaking, the Acting Executive Secretary of NCDMB, Daziba Patrick Obah, recalled that LADOL which is a 100 percent indigenous owned, was developed as a green field about ten years ago, but has grown into a world class logistics provider for the world.
While expressing satisfaction at the level of work being done at the site and the compliance to local content rules at the base, Mr. Obah called on other oil companies to key into the step taken by Total to boost local content in the oil industry.
According to him, the Board was well aware that the LADOL base through the FPSO project "is creating 5000 direct and 50,000 indirect jobs in the country…and this is a thing of pride to the country as a major player in world oil exploration business.
"I look forward to seeing the 12 modules of the FPSO navigate out of this place in record time after completion. We heard they have good succession plans, and that the project is on schedule. We hope it will never die, as we thank all representatives of the IOCs for their words of commitments that they will do all within their powers to sustain it" he said.
Earlier, Executive Chairman of LADOL, Mr. Ladi Jadesimi, who conducted the team round the base as well as the FPSO site, expressed gratitude to the Content Board for their supports, as well as the contract awarders, Total, "for taking a worthy risk in investing on the project which would have gone elsewhere outside Nigeria with attendant revenue losses and capital flight for Nigeria.
"LADOL also feels gratified at this engagement with SHI, for coming thus far and keeping faith in us. I am confident that the risk they took has paid off with the success recorded at this project thus far", he said.
Copyright Ships & Ports Ltd. Permission to use quotations from this article is granted subject to appropriate credit given to www.shipsandports.com.ng as the source.