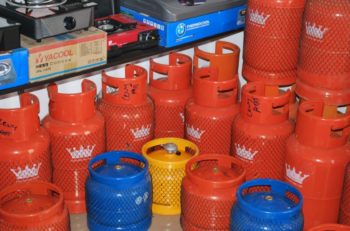 As part of initiative to boost local manufacture of liquefied gas (LPG) cylinders, the Nigerian Content Development and Monitoring Board (NCDMB), has gone into partnership with Bank of Industry (BOI) to enable it produce the cylinder capable of meeting the needs of consumers which is put at three million yearly.
In the same vein, the Board has warned Nigerians to desist from the importation of substandard cooking gas cylinders as this is not healthy for the country.
The warning is coming on the heels of the Standards Organisation of Nigeria (SON) siege on unscrupulous importers even as it has vowed to employ stringent measures to serve as a deterrent to defaulters.
However, to avoid sounding completely aloof, NCDMB attributed the resort to importing low quality cylinders to inadequate cylinder production in the country which has stimulated it to come up with plan to boost local manufacturing of cylinders.
Executive Secretary of the Board, Simbi Wabote, said the only LPG cylinder manufacturing company in the country located at Isheri in Ogun, has capacity to produce about 400,000 cooking gas cylinders yearly, although the country requires nothing less than three million cooking gas cylinders, annually.
He said this is a far cry from what Nigerian homes require annually, adding that this had encouraged incessant in-flow of substandard and expired LPG cylinders into the country.
Wabote said that in order to stop this, the Board had conceived "the local manufacture of liquefied gas cylinders' initiative," which will create employment opportunities, stop importation of LPG cylinders and jump-start a new cylinder-producing industry.
According to him, the initiative is connected to the Federal Government's domestic gas utilisation programme aimed at encouraging the use of cooking gas by every home in the country.
He noted that studies had shown that for domestic gas utilisation programme to succeed, there is need to address the availability, affordability and acceptability of LPG and its cylinders by all stakeholders.
He said the initiative would make cylinders affordable and create a new industry in the LPG value chain with respect to local manufacturing.
He further explained that it would enhance the use of cleaner fuel supply, thereby, reducing environmental pollution in the country.
"It would also reduce the utilisation of firewood which would discourage deforestation," he said, adding that the Board will develop a funding- model to support potential investors.
Copyright 2017 Ships & Ports Ltd. Permission to use quotations from this article is granted subject to appropriate credit given to www.shipsandports.com.ng as the source.