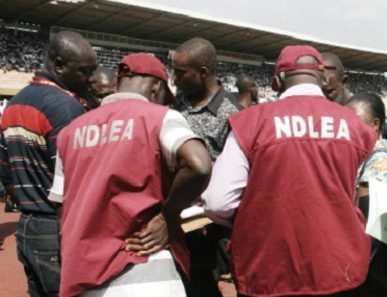 The National Drug Law Enforcement Agency (NDLEA), Murtala Muhammed International Airport (MMIA) Command, Lagos said it arrested 18 suspected drug traffickers in first quarter of 2020.
NDLEA Commander at the airport, Garba Ahmadu, said 18 suspected drug traffickers, comprising 17 males and 1 female, were arrested at the airport between January and March 2020, out of which 9 were convicted.
Ahmadu said 272.532kg of hard drugs were seized in the quarter.
The narcotics include cocaine (25.053kg), cannabis sativa (5.580kg), ephedrine (16.811kg), tramadol (158.600kg), nitrazepam tablets (24.488kg) and diazepam injection (42.000kg). 
He said Ethiopian Airlines and Asky Airlines, were the most frequently used airlines by drug couriers in the period under review. 
"Most of the arrests for the first quarter were made on Ethiopian Airlines; five persons were arrested from that airline. We also arrested two persons on Asky airlines and one person each from Emirates airlines, Qatar airways, Etihad airways, Virgin Atlantic and Rwand Air.
"It was discovered that most mode by which the illicit drugs were concealed during the period under review were luggage packing followed by ingestion, anal insertion, hair attachment and vehicle," Ahmadu said.
According to him, some of the drug traffickers were on their way to the United Kingdom, Gabon, Uganda, Pakistan, UAE, Congo, Sierra Leone, Guinea Conakry and Madagascar while others brought the illicit into the country from Brazil and India. 
Ahmadu also said his men arrested a drug trafficker at his house in Ejigbo area of Lagos State while another was arrested at the local airport in Lagos on his way to Abuja.