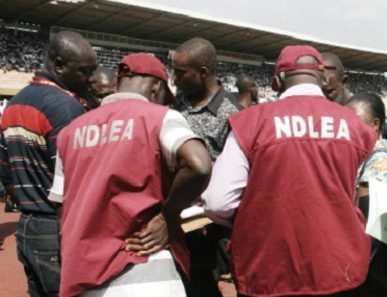 The National Drug Law Enforcement Agency (NDLEA), Murtala Muhammed International Airport (MMIA) Command in Lagos on Wednesday said it arrested 23 persons for drug trafficking between January and April 2019.
According to the agency, four persons were deported from other countries for drug trafficking while 19 were arrested for trying to traffic illicit drugs out of the country through the MMIA.
NDLEA Commander at the airport, Ahmadu Garba, also said that 27 seizures were made between January and April this year.
Garba said, "In 2018, we made a total seizure of 5,375.985kg of various illicit drugs while from the beginning of the year to the end of April, we have seized 106.600kg of different drugs such as cocaine, heroin, cannabis sativa, methamphetamine and ephedrine."
A report released by the command on Wednesday showed that 22 people were arrested in 2018 for trafficking drugs into the country while 51 were apprehended for attempting to smuggle drugs out of the country.
"Drug trafficking comes with trends. Personally, I want to believe it is even easier to profile inwards because you have an idea of source countries for this kind of drugs. The drug trend is very dynamic now.
"Before now, most of the heroin that come in, come either from Pakistan, India or Afghanistan. But throughout 2018 till date, almost all the heroin we have arrested is coming from East African countries. People bring it to some of these East African countries and then bring them here.
"What go out mostly from here are methamphetamine, ephedrine and cannabis. Maybe that would explain the number of arrest for outward. Methamphetamine is produced in Nigeria unlike heroin and cocaine that are brought into the country," the NDLEA commander said.