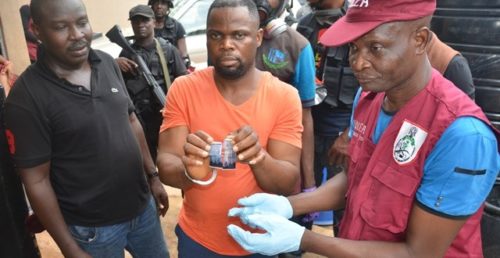 The National Drug Law Enforcement Agency (NDLEA) arrested 4,736 persons for suspected involvement in drug trafficking between January and August 2018. The number is said to consist of 4,395 males and 341 females.
Speaking with SHIPS & PORTS DAILY, the National Public Relations Officer of the agency, Jonah Achema, added that a total of 80.73 metric tons of the illicit substances were seized from the suspects.
Cannabis sativa, also known as 'wee-wee', said to be the only drug crop cultivated in Nigeria, accounted for 59.2 tons of the total drug seizures while Methamphetamine which is fast gaining currency in local production, accounted for 119.37 kilograms. 
Tramadol and cough syrup with codeine, the two pharmaceutical drugs of abuse accounted for 16.969 tons and 7.973.5 metric tons, respectively.
Achema said that the agency had equally destroyed approximately 267 metric tons of seized drugs since January 2018. 
The public destruction by burning exercise which took place in Edo, Ondo, Adamawa and Jigawa States involved 136 metric tons, 110.5 metric tons, 14.4 metric tons and 6.21 tons respectively.
Describing Nigeria as a source country for Cannabis, he explained that drugs usually move from source countries through transit countries to consumer countries. 
"We have source countries; these are countries where drugs are either produced, harboured or moved in large consignment. If you are talking of cocaine, we talk of Latin America such as Mexico, Columbia, Brazil. If you are talking of heroine, we talk of Afghanistan, Pakistan. As for Cannabis, Nigeria is a source country. But for other drugs, Nigeria is more of a transit country. Transit is where drugs have a stopover and then have onward movement to consumer nations. 
"Countries like United Kingdom, USA, and other Asian countries, are essentially consumers in this case. Transit countries are for concealing, evading and easy movement," Achema said.
He added that the movement of drugs was directly proportional to the ease of transportation which traffickers take advantage of.
Achema said, "We are stationed at all entry points in the country; our activities are not confined to the airports. Drugs work with human traffic, vehicular traffic, cargo movement. But if you look at the seaports, the whole of the movement can be tied to just a ship that is moving at a particular point in time. This is different from the airports, where you have large volumes of people travelling per day. 
"We are also going as far as making seizures at the courier service points in the country. All those fast moving courier companies. We subject their operations to scrutiny and then we make fantastic seizures too."