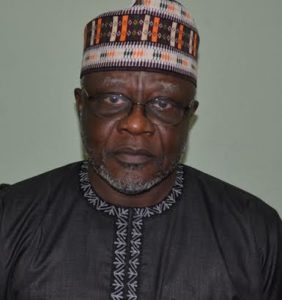 The National Drug Law Enforcement Agency (NDLEA) has threatened to take legal action against any act of misinformation calculated to obstruct it activities at the seaports, the agency has said.
The chief executive of NDLEA, Muhammad Abdallah, said in a statement on Monday that the agency would remain vigilant in preventing the use of the seaports for drug trafficking.
"The operations of the NDLEA at the seaports is statutory and it is pertinent to set the records straight," said Abdallah, a retired Army colonel. "This clarification is imperative in the light of conflicting reports intended to mislead members of the public on the official position."
The anti-drug trafficking agency had claimed last week that its activities at the ports had been endorsed by the Federal Government in an Executive Order issued by Acting President Yemi Osinbajo.
Mitchel Ofoyeju, the NDLEA's spokesperson, quoted Hadiza Bala Usman, the managing director of the Nigerian Ports Authority (NPA) as stating that eight agencies, including the NDLEA, had been cleared to operate within the ports.
But the NPA denied that Usman made such claims, and insisted the executive order listed only seven agencies – the Nigerian Ports Authority (NPA), the Nigeria Customs Service (NCS), Nigerian Maritime Administration and Safety Agency (NIMASA), Department of State Services (DSS), Nigeria Police Force (NPF), Nigeria Immigration Service (NIS) and the Port Health Authority (PHA). 
But in his statement on Monday, Abdallah warned that serious government business, such as the number of agencies approved to operate at the seaports, must not be treated with levity, adding that any person or group of persons trying to misinterpret the Presidential Executive Order for selfish reasons would be dealt with in accordance with extant laws.
"There are official documents to this effect and members of the public are advised to discountenance statements that lack credence. 
"I wish to state unequivocally that NDLEA has the mandate of the Federal Government to carry out full counter-narcotic activities at the seaports. As a responsible agency of government, we consider the misrepresentation of facts as a slight on the Presidential Executive Orders on the ease of doing business," he said.
The agency said Section 8 (1b) of the NDLEA Act empowers it to work in collaboration with the Nigeria Customs Service in monitoring the movement of goods and persons in any Customs area, Customs stations, Customs ports or Customs airports and searching cargoes and incoming and outgoing vessels, including pleasure craft and fishing vessels as well as aircraft and vehicles and, when appropriate, searching crew members, passengers and their baggage.
Abdallah said the NDLEA was operating at the seaport in compliance with the law and Federal Government directive and any attempt to violate the directive would be considered as a conspiracy to advance the nefarious activities of drug cartels to the detriment of national security.
"The interest of Nigeria must remain paramount above every other consideration," he said. "No one agency can succeed in isolation, we must learn to collaborate, share intelligence and embrace latest technology in promoting government's policy of facilitating trade and encouraging Foreign Direct Investment."