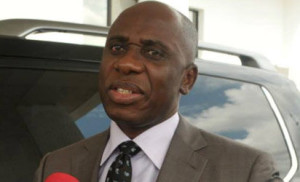 Minister of Transportation, RotimiAmaechi is somebody that will never hide his feelings regardless of the person involved. In most of his official functions since he became minister, he has been known to say it as it is and his salvo has severally hit unsuspecting targets.
Recently the minister accused the Nigeria Customs Service (NCS) of frustrating the National Single Window project designed to quicken cargo clearance process at the ports.
The National Single Window (NSW) is a platform designed to integrate all agencies involved in the clearance of cargoes at the ports with a view to simplifying the inspection, calculation and payment of all import duties, levies and other charges on line.
Amaechi made the accusation during the inauguration of the Command, Control, Communications and Intelligence System, a marine operation and surveillance centre, at the Nigerian Ports Authority (NPA) in Lagos.
He told the representatives of the head of Customs at the event, "Please the Comptroller General of Customs has to agree and the Customs needs to be connected to the NSW to make our ports more effective. All we are doing now is manual; it will not last for long.
"Very soon Nigerians will protest against the seaports. People are already importing through Benin republic. Everyone has a single window. Niger which used to import things through Nigeria is doing so through another country. This is because we are charging both official and unofficial charges. Goods in Nigeria are too expensive," he said.
The Comptroller General of the Nigeria Customs, Hameed Ali replied at a different function in Lagos and told the minister he was lying. He said the Customs initiated the single window project and that most agencies are hooked to its portal.
But although the NCS has been on this project since 2013, most stakeholders believe that the officials may not allow it to function since it will block avenues that corrupt officers use to enrich themselves.
From research, automation through the NSW would check this fraudulent life style; a development that experts said would make it difficult for such innovation to work. Recently, freight forwarders were said to have doubted the workability of the NSW under the Customs Service, obviously because of corruption. The National Association of Government Approved Freight Forwarders (NAGAFF) was reported to have written thePresidency and the Transport Minister that the NSW project should not be under the Customs Service.
Beyond controversy, the National Single Window is a cross-government website for trade facilitation. It offers a single portal for trade actors, both Nigerian and international business community to access a full range of resources and standardised services from different Nigerian government agencies.
It is advancement in trade facilitation efforts at the nation's ports. It is in keeping with the demands of the World Trade Organisation (WTO), World Customs Organisation (WCO), among others in the efforts to facilitate trade among nations. Under the singlewindow, there will be a single portal for all to access, which makes cargo clearance simple. NSW has been implemented by many advanced nations. Developing countries like Ghana and Republic of Benin have also implemented the programme.
Available indices show that the world is advancing towards a paperless society in such a way that even clearance of goods is becoming a simple touch of the button instead of the horrorthat Nigerians pass through at the ports before their goods are released. A visit to advanced countries shows how backward Nigeria has remained. InSingapore, Sri-Lanka, UK ports, US, among others, clearance of goods does not require physical presence at the ports. Everything is automated in such away that the personnel you find at the ports are simply security staff.
All the documentation is carried out online. In Nigeria, the story is different as even officials of government agencies, like the Customs cannot do without the presence of customs brokers who would monitor their entries from desk to desk and to grease ready palms before their goods are released. From investigations, there is hardly any importer in Nigeria that would not like to cheat on government, which gives room for custom personnel to fleece them.
Customs administrations require an active use of information and communication technologies (ICT) to become more effective and efficient. The objective is to use electronic data instead of paper documents and to connect different computer systems of government agencies and businesses.
While most countries, have keyed into this project to fast-track trade, Nigeria should not be left behind.
SHIPS & PORTS DAILY however identifies two major bottlenecks that may not allow its workability in Nigeria despite official posturing. These hindrances are lack of transparency and inadequate infrastructure.
We believe that if the government is sincere enough to put its feet down to deal with this problem, then the country will experience unusual surge in economic growth; otherwise all effort at this will be mere wild goose chase.
Copyright Ships & Ports Ltd. Permission to use quotations from this article is granted subject to appropriate credit given to www.shipsandports.com.ng as the source.