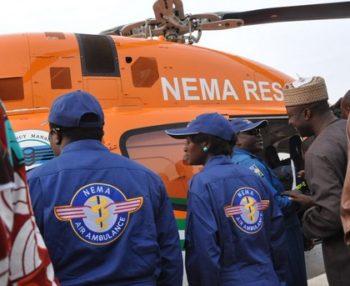 Some officials of the National Emergency Management Agency (NEMA) on Thursday embarked on a three-day warning strike.
Some staff of the agency under the Association of Senior Civil Servant of Nigeria (ASCSN) and Nigeria Civil Service Union (NCSU) were seen with placards with inscriptions such as 'Mustapha Maihaja must go', 'Mustapha, we are tired of Aluta, pay our claims or resign, enough is enough'.
Other read: N'o hazard allowance, no life assurance cover', 'Who will die next', "No promotion exercise', 'Give us training it is statutory', 'Maihaja is an electrician, we are humanitarian'.
Saad Bello, chairman, Association of Senior Civil Servants, NEMA branch, told journalists that the staff members were embarking on a peaceful protest nationwide.
He said the union embarked on the warning strike over the alleged failure of the management to adhere to public service rules.
He said the union was also agitating for better welfare and the resignation of Mustapha Maihaja, its director-general.
According to him, Maihaja had not lived up to expectations and had failed to implement the recently signed agreement with the union, which was chaired by Chris Ngige, minister of labour and employment.
He said the three-day nationwide warning strike commenced from Thursday will end on Monday, warning that if the management fails to meet their demands, indefinite industrial action would be declared.
He listed the staff demands to include unpaid allowances, failure to renewed life assurance policy, lack of capacity building for staff among others.
Bello said Maihaja had shown a lack of adequate capacity and knowledge on how to run a humanitarian agency.
"We are here to fight for our rights and implementation of the agreement reached between NEMA management and the Association of Senior Civil Servants in Nigeria, with the ministry of labour as witness,"Bello said.
"We have a lot of issues that are bothering the minds of the workers of this agency and we have tried to approach the management but they became adamant.
"We gave them the first twenty-one days notice to no avail, fourteen days notice to no avail, seven days warning to no avail until the Minister called us to a roundtable to discuss the issues that were raised.
"Agreements were reached, with the management of NEMA and the Ministry of Labour and Employment signed, the Association of Senior Civil Servants of Nigeria and the NEMA unit of the Association equally signed the agreement.
"This agreement bothers on the lots of liabilities of staff welfare, DTA, overtime, transfer allowances that had not been implemented and the agreement specified that it should be concluded within three weeks.
"Three weeks had elapsed, nothing has been done about it and we cannot have a vibrant agency without capacity building."
The union leader said that the entitlements of members of staff, who died from 2016 till date, have also not been paid for lack of life insurance policy.
Bello said another issue brought for discussion was the posting of some staff posted out of the headquarters because they clamoured for justice from management, and the ministry agreed that they should be returned but nothing had been done.