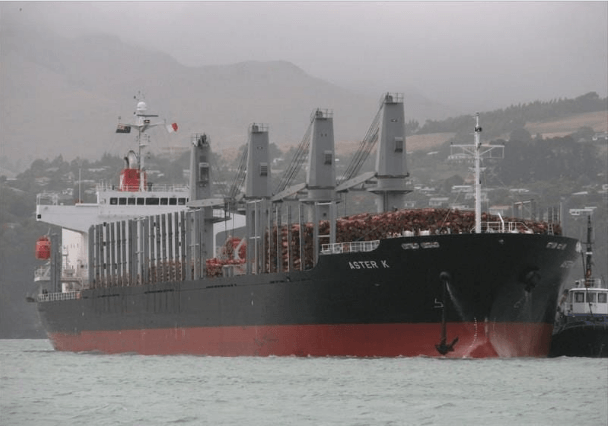 A New Zealand court has sentenced a Tauranga-based stevedoring company to a more $150,000 fine after a 15 tonne excavator was dropped from a ship's crane nearly killing five workers.
The incident happened at Northport deep-water in Whangarei, New Zealand when the log carrier, Aster K, was being loaded on 16 July 2017.
The stevedoring company, C3, has now pleaded guilty to one charge under the Health and Safety at Work Act of exposing people to risk of death or serious injury (section 48).
"This was seconds away from five workers almost certainly being killed," said Neil Rowarth, Maritime NZ's Northern Regional Compliance Manager. "The five workers had been in the drop zone moments before the excavator fell from the crane."
"The incident happened because C3 did not adequately train some of its stevedores for working around cranes. They did not clear the drop zone below the crane and allowed the excavator to be loaded incorrectly onto the crane," said Rowarth.
According to Maritime New Zealand, after loading logs onto a ship, the ship's crane was being used to unload the excavator onto the wharf. However, before leaving the worksite, the excavator's driver had not correctly positioned the excavator's boom so it could be safely lifted by the crane. When the excavator was lifted the load was unbalanced, causing it to fall where five workers had just been standing.
"It was sheer good luck that no one was seriously injured or killed," Rowarth said. "This is a striking example of employers' responsibilities to provide good workplace training and safe work practices."
"It should never be just 'good luck' that workers come home alive and unhurt," he added.