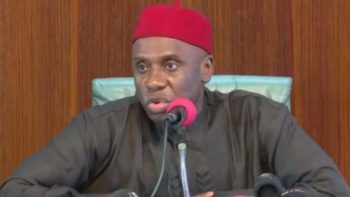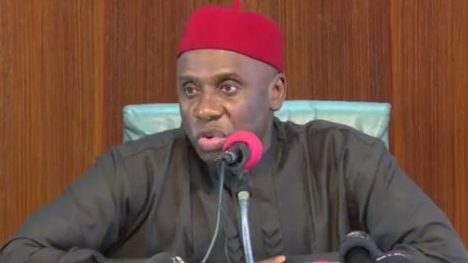 Save Ijaw Nation Group (SING) yesterday, took on the Minister of Transportation, Chibuike Amaechi and former Edo State governor, Adams Oshiomhole, over their attacks on former President Goodluck Jonathan, describing them as betrayers.
Amaechi and Oshiomhole were reported to have spoken against Jonathan at separate events on Tuesday.
While the former Edo State governor had queried Jonathan's capacity as President, Amaechi had claimed that Nigeria was heading towards a civil war during the 2015 elections.
However, replying the two politicians in a statement, yesterday, SING accused Amaechi of being one of those threatening war while Jonathan was preaching peace, in the run up to the 2015 general elections.
Co-ordinator of the group, Otobo  Osborne also reminded Oshiomhole that he had before now always praised Jonathan for his statesmanship but has turned against the ex-President because he (Oshiomhole) was out of job and needed one.
He said, "Amaechi, the man who threatened that his party would form a parallel government if it did not win the 2015 election now accuses former President Jonathan who said 'my ambition is not worth the blood of any Nigerian,' of leading Nigeria to a civil war. If this is not delusional thinking then it is hard to imagine what is.
"Never since the civil war has Nigeria been as divided as it is today with different regions of the nation giving quit notices to each other. A prudent person would in such circumstances tailor his speech to build unity, but not Amaechi. 
"Sadly, what we are experiencing today is the culmination of the threats made during the course of the general 2015 elections by persons like Amaechi. 
"President Jonathan has demonstrated statesmanship. I think there is hope for Nigeria. What the Edo election has confirmed is that when the President and Commander-in-Chief puts the country first and conducts himself as a statesman, not just as a party leader, credible elections are possible.
"Of course, it is not surprising that Oshiomhole would change his tone today especially when he is out of a job and is desperate to curry favour with the hope of getting a new job but we wish to remind him that under Jonathan, elections were free and fair as he said and there was no inconclusive elections.
"In a democratic setting, the most basic requirement of any leader is that he provides the platform for democracy and the economy to thrive. On both scores, no one can fault Jonathan.
"We are, however, not surprised at the utterances of these two characters because they have proven to be double-faced liars and serial betrayers."   
Copyright Ships & Ports Ltd. Permission to use quotations from this article is granted subject to appropriate credit given to www.shipsandports.com.ng as the source.