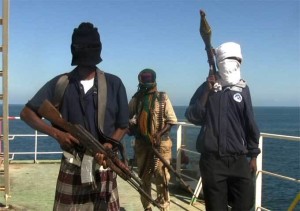 In a bid to sustain the onslaught against piracy and other maritime threats in the Gulf of Guinea (GOG), Nigeria and 29 other nations Thursday commenced a multinational sea exercise, christened OBANGAME EXPRESS.
Sponsored by the United States of America (USA) through its African Partnership Station, this year's OBANGAME EXPRESS would be concluded at Abidjan in Cote D'Ivoire.
According to the Flag Officer Commanding (FOC) Eastern Naval Command (ENC) and Officer in Tactical Command (OTC) Rear Admiral James Oluwole three Nigerian Navy Ships (NNS), a helicopter and a French ship would navigate the nation's waters in the course of the exercise.
At a press briefing held at Onne Port in Rivers State, Oluwole said NNS OKPABANA, NNS CENTENARY, NNS SAGBAMA and one navy helicopter would participate in the exercise.
According to him, Angola, Belgium, Benin Republic, Brazil, Cape Verde, Cameroon, Cote D'Ivoire, Democratic Republic of Congo, Denmark, Equatorial Guinea, France, Gabon, Germany, Ghana, Guinea Bissau, Liberia, Norway, Mauritania, Portugal, Congo, Sao Tome and Principe, Senegal, Sierra Leone, Spain, South Africa, Togo, Turkey, The Netherlands and the USA would participate in the exercise.
Oluwole said: "Regional organizations such as the Economic Community of West African States (ECOWAS) and the Economic Community of Central African States (ECCAS) would also participate in the exercise.
"The exercise is sponsored by U.S Africa Command and is designed to improve regional cooperation, maritime domain awareness, information-sharing practices and tactical interdiction expertise to enhance the collective capabilities of Gulf of Guinea and West African nations to counter sea-based illicit activities.
"The Exercise would be conducted in phases within the territorial waters of the participating nations.
"The Nigerian phase of Exercise OBANGAME EXPRESS would hold from March 24 to 28 within the nation's waters. A French ship, JACOUBET will sail into Nigerian waters from Cameroon. It will perform several exercises with the NN platforms as will be presented by the exercise scenario.
"The purpose for the exercise is to create realistic scenarios that reflect past piracy incidents whereby a hijacked vessel will transit from one territory to another. Maritime Operations Centres (MOCs) during the Exercise will be challenged to recognise these illicit acts appropriately and share with other MOCs.
"Additionally, the Exercise will test each maritime force to patrol their Exclusive Economic Zones (EEZ) and detect, prosecute illegal activities accordingly."