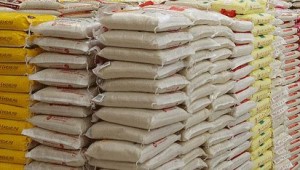 The Rice Millers, Importers and Distributors Association of Nigeria (RIMIDAN) has said that it is impossible for Nigeria to achieve self sufficiency in rice production by the end of 2018.
Speaking against the backdrop of a recent statement by Vice President Yemi Osinbajo that Nigeria will stop rice importation by the end of 2018, Secretary of RIMIDAN, Shaibu Mohammed in a chat with SHIPS & PORTS DAILY, said the gap between demand and supply is still huge.
He explained that Nigeria consumes seven million tonnes of rice as against 2.5 million tonnes presently produced by farmers.
"It is not possible for us to be self sufficient in rice by end of 2018. The Vice President did say farmers produce 4 million tonnes of rice. That quantity is not 4 million of the finished product; it is 4million of paddy or the raw rice and the husk. So if we produce 4 million tonnes of paddy, your yield which is the finished product of rice will be about 56 percent. Which means the head rice you get will be about 2.5million tonnes out of 4 million paddy.
"Nigeria consumption stands at 7million tonnes, so you can see the difference between 2.5 and 7million which means the supply gap is still huge," he said. 
Mohammed said while farmers are putting in more effort towards rice production n the country, the influx of foreign smuggled rice coming through the land border is however frustrating such effort, which he said has crashed prices of foreign rice.
He said the difference in the price of the local and foreign rice as a result of influx of smuggled rice is discouraging the farming process as people prefer to buy the foreign rice because of the price difference.
According to him, there has been a huge increase in the level of smuggled rice into the country noting that all foreign rice in the markets are all smuggled. He said CBN has not issued form M for rice imports in the last two years.
"Farmers are no longer encouraged because they cannot sell their goods at their own price. So it seems every effort is dying again.
 "CBN will not give Form M for rice importation and if you can't open a form 'M', it means you cannot import rice. They have not give anybody form M for rice in the last 2 years so nobody can legitimately bring in rice through the seaport. So any foreign rice you see in the market is illegal products," he said.
"The influx of smuggled rice is affecting prices and people are beginning to change their preference again back to foreign rice. They like the Nigeria rice but the pricing is the issue. Nigerian production of rice is heavily affected by infrastructure that brings the price up. The landing cost for the local rice is going for N17, 400 while the foreign rice is sold for N14, 500,"
He urged the government to give members of the association who export other produce the opportunity to use their export proceeds to bring in rice without making any demand for forex from CBN.
He also called for re introduction of the import license to credible rice milling company with huge investment to bring in rice to bridge the supply gap.
"Some of us are exporters, but the government say we cannot use our export proceeds to import rice, they must come in as dollar. If we are allow to use our proceeds, that will encourage export because that will make some of our members who are into export look for products like cocoa and others and that will bring in more forex and will reduce the supply gap to some extent and push smuggling back ward, he said.
"Import license was not a bad idea but it was the abuse of it where people begin to give license to people who are not qualified that discourage it.  If they give credible companies the opportunity that will help solve the problem," he said. 
Copyright 2017 Ships & Ports Ltd. Permission to use quotations from this article is granted subject to appropriate credit given to www.shipsandports.com.ng as the source.