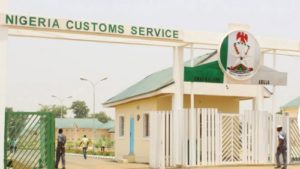 The Nigeria Customs Service has approved the redeployment of seven Comptrollers of Customs. In a statement on Friday, Joseph Attah, the acting Public Relations Officer of Customs stated that the redeployment was approved by Col. Hameed Ali (retd), Comptroller-General of Customs.
Read the customs statement below on the redeployment of the officers:
REDEPLOYMENT OF COMPTROLLERS
The Comptroller-General of Customs Col. Hameed Ibrahim Ali (Rtd) has approved the redeployment of seven (7) Comptrollers of Customs.
They are:
• Aber, T. B. Kirikiri Lighter Terminal to Ag. ACG Modernization
(HQ)
• Wushishi, L. ICT (HQ) to Kirikiri Lighter Terminal
• Babani, A. Port Harcourt Area II to Post Clearance Audit (Zone
'A')
• Abubakar, B. Post Clearance Audit (Zone 'A') to Port Harcourt
Area II
• Mohammed, A. A. Finance Administration and Technical
Service (HQ) to Seme
• Dimka, V. O. From Seme to Zone 'D' HQ Bauchi
• Odibu, C. O. Human Resource Development (HRD) to
Ikorodu Lighter Terminal
As the affected officers resume at their new posts, the CGC urges them to re-engineer their Commands for effective and efficient service delivery.
Signed
Joseph Attah
Ag. Public Relations Officer