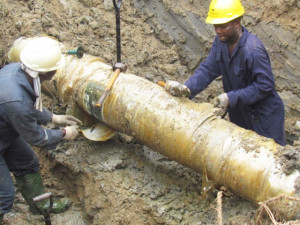 The Nigerian Gas Company (NGC) says it had commenced the process of fixing the exploded gas pipeline at Ugbokodo-Okpe community in Okpe Local Government Area of Delta.
According to Kingsley Onaipia, an official of the company clearing the affected area for proper assessment and evaluation of the damaged pipeline made the disclosure to newsmen at the site on Thursday.
Onaipia said the indigenous firm was engaged by NGC to clear the area before the commencement of repairs on the pipeline.
Swamp boogies and others have already commenced work at the site.
"We are on site at the instance of NGC, to enable the management ascertain the extent of damage of the gas pipeline.
"We have commenced evacuation and as soon as we conclude, proper repairs will commence immediately by the company's management,'' he said.
An, official of the NGC, who craved anonymity also confirmed the development to newsmen.
"We want to effect repairs on the damaged pipeline as soon as possible,'' the official said.
The NGC gas pipeline exploded on January 11, at about 4:00 a.m.