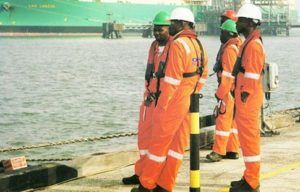 The current move to increase global share of seafarers has forced some maritime nations to take drastic measures to reorder its priority in this area by investing more time and money into training.
Among countries backward in creating conducive environment for the training of seafarers but who are taking steps in doing so are Nigeria and India.
Nigeria has been highly criticised for not providing the necessary infrastructure to create sea time experience for graduates of its Maritime Academy Oron thereby squandering opportunities that would have given the country larger market share in the thriving industry.
While Nigeria with its sheer size is nonexistent in the global seafaring industry, "India with 12 per cent of the world's population has just 7 per cent of the seafarers' market while Philippines with just 2 per cent of the world's population has grabbed 20 per cent global share. There are about 1,30,000 Indian seafarers who serve cargo ships across the globe currently.
Nigeria however has been making some moves to increase its training strategy as the Nigerian Maritime Administration and Safety Agency (NIMASA) recently entered into partnership with the South Shield Marine School, South Tyneside College, United Kingdom to provide sea time opportunities for about 400 cadets of the agency sponsored by Nigerian Seafarers Development Program (NSDP).
The institution, which has so far trained 502 Nigerians in various fields of marine engineering and nautical science, has about 326 students due for sea time, a mandatory requirement to go on board a ship for a period of one year, on ocean going vessels, before being qualified for the award of a maritime degree.
The government has also reopened its stalled maritime university and currently working on restructuring MAN Oron. The products of these institutions it is believed will limit the large space occupied by Philippines in the near future.
India on its own has taken serious measures to grab more share of the market. Representatives of various Indian shipping associations recently formed a 'task force' to work towards increasing the global share of Indian seafarers, according to Maritime Association of Ship-owners Ship-managers and Agents (MASSA)
The objective of the task force is to deal with and create a conducive environment to increase the global share of Indian seafarers to over 9 per cent from current 7 per cent.
The various shipping associations that have come forward for the initiative include MASSA, Maritime Union of India (MUI), National Union of Seafarers of India (NUSI) and Foreign Owner and Ship-Managers Association (FOSMA).
MASSA said that the force will primarily deal with Mumbai-based Directorate General of Shipping.
"With our task force coming into being, we are going to put forward various incentive measures, suggestions and actions required to raise the bar of Indian seafarers' performance, besides how to restructure maritime examination systems in India," MASSA chairman Captain Prashant Rangnekar said.