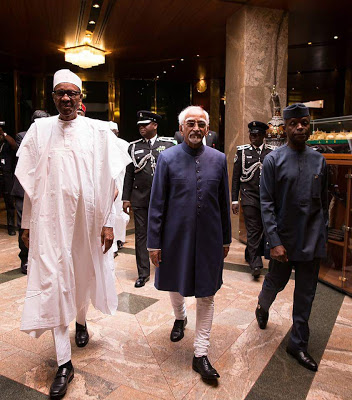 The Federal Government and India on Tuesday signed a Memorandum of Understanding (MoU) to deepen trade and investments and exchanged letters of intent on bilateral relations.
The event, which took place at the Presidential Villa, Abuja, during a bilateral meeting, was witnessed by Vice President Yemi Osinbajo and his Indian counterpart, Mohammad Hamid Ansari.
Osinbajo in a remark called for urgent establishment of a joint technical commission to facilitate the partnership between Nigeria and India.
He recalled that ties between Nigeria and India over the years had been very stable and called for strengthening of the relationships in regional and international affairs.
According to him, Nigeria looks up to India in various ways as it has shown leadership in technology, agriculture and information technology.
He described the meeting with the Indian delegation as very useful and expressed the hope that both countries would derive mutual benefits from the MoU.
Earlier, Ansari had said he was impressed by Nigeria's vision for bilateral relationship, feeling for India and its expectations for the partnership.
According to the Indian VP, the friendship and faith of both countries is a source of great pride and strength for the partnership.
He said that "listening to you has strengthened my conviction that our partnership is natural because our destinies are so inter-linked and our aspirations and challenges are similar.
"I am confident that our deliberation today will make our partnership more effective."
Ansari added that India and Nigeria were strategic partners.
He said it was important that both countries continued to engage in new ideas and concrete proposals to elevate them to the next high level.
Ansari, who would be visiting the commercial city of Lagos during his tour, said he looked forward to the visit, where he would have the opportunity to address the students of University of Lagos.
The visiting vice president expressed appreciation to the Federal Government "for the excellent preparations made for the visit of the Indian delegation."
Discussions at the bilateral meeting focused on economic relations, peace and security, consular matters, as well as regional and international issues.
The MoU was signed by Nigeria's Minster of State for Industry, Trade and Investment, Mrs Aisha Abubakar, and her Indian counterpart, Gangaram Meghwal.
The letter of intent was exchanged between the Permanent Secretary, Ministry of Foreign Affairs and the Indian High Commissioner to Nigeria.
Copyright Ships & Ports Ltd. Permission to use quotations from this article is granted subject to appropriate credit given to www.shipsandports.com.ng as the source.