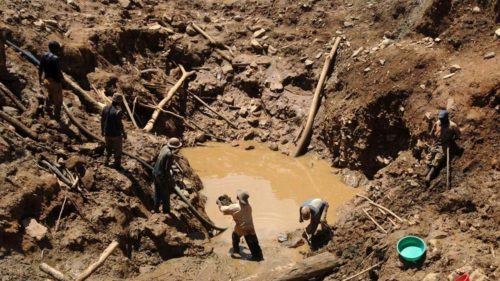 Global Rights Nigeria, an international humanitarian organisation, has said over N152.5 billion worth of gold is smuggled out of the country annually.
The Executive Director, Global Rights Nigeria, Abiodun Bayewu-Teru said this at a stakeholders' engagement in the mining sector with the theme 'The Development and Implementation of an Effective Fiscal Regime in Nigeria's Artisanal/Small Scale Mining Sector,' which held recently in Abuja.
She said, "We were confronted with extreme poverty when there was so much wealth leaving our country. $500 million that is the amount of gold shipped out of Nigeria every year, and yet communities like Ankpa, Badega in Zamfara, Shikirain Niger State, Osun State, with the highest number of out of school children, and many in these communities are suffering.
"These communities usually have incidents of artisanal mining lead poisoning related to artisanal gold mining. In 2010, about Zamfara 700 children were affected and in 2015, 30 children in Shikira, Niger State, 30 children were affected."
Bayewu-Teru cautioned government and operators in the mining industry not to repeat the mistake of the Niger Delta. She decried the state of the host communities which have been endangered with the poisonous gases from mining sites.
She said, "How can we change this narrative? We should not repeat the mistake in the Niger Delta and on Jos-Plateau; we build a Nigeria that works for all, especially the vulnerable."
"We affirm our support for Global Rights and what they are doing in the sector. What we are asking Nigeria Extractive Industries Transparency Initiative (NEITI) for is implementation of a development plan for the sector. That implementation should lead to a situation where an organised platform will lead to a fiscal regime."
Bayewu-Teru also raised the alarm that sapphire in Taraba State, gemstone in Enugu or in Oyo State, or Ebonyi State were being illegally taken out of Nigeria.
She lamented the poor state of mining communities in Nigeria compared with other countries where mining is also carried out.
"Our constitution says in Section 17 that the natural resources of the mining community will be used for the development of the community and welfare of the citizens, but this has not been the case in Nigeria," she said.
Some of the stakeholders include the Ministry of Mines and Steel Development, Nigeria Extractive Industries Transparency Initiative (NEITI), Miners Association of Nigeria (MAN), Women in Mining (WIM),and others.
The conference was targeted at addressing challenges associated with activities of artisanal and small-scale mining, especially the negative impact on the economy, the health and environmental impact, and how to formalise these categories of miners.