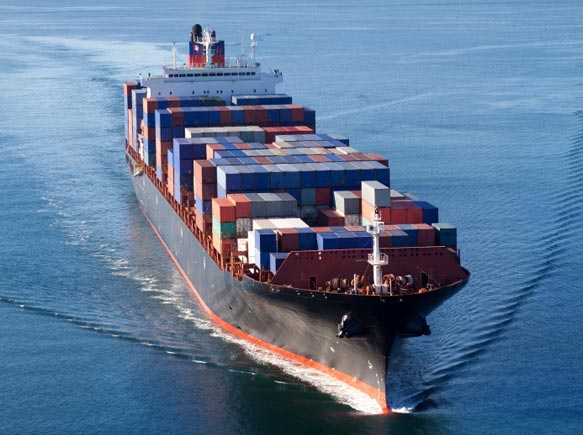 Container shipping, which is the use of containers to load, transport, and unload goods, has become an integral part of the shipping business worldwide. It is perhaps the most globalised business in the maritime industry in contemporary times. Many goods are now moved across the oceans using containers since its first appearance over 60 years ago. Today, containerships are responsible for about 60% of the value of goods shipped via sea. The popular acceptance of this mode of shipping goods led to the standardisation of containers used by the International Standard Organisation (ISO) in 1960. As a result of this standardisation, the 20-foot container, referred to as a Twenty-Foot Equivalent Unit (TEU) and the 40-foot container otherwise called Forty-Foot Equivalent Unit (FEU) have become the industry's standard references. This standardisation has made it possible for containers to be moved effortlessly among ships, trucks and trains. By 2015, the quantity of goods carried by containers had risen to 1.7 billion metric tons from around 100 million metric tons in 1980. World seaborne trade was valued at around USD12 trillion in 2017 and container shipping is responsible for 60% of that value.
Smart shipping companies have taken advantage of the huge business opportunity to grow their portfolios. Currently, Denmark's Maersk Line leads the pack of container shipping lines with 636 ships as at June 2017, followed by MSC with 512 ships; CMA CGM 461 ships and a few others in that respect. In all, there are about 6,000 ships for container shipping worldwide. Also, Maersk Line has the largest container fleet held 15.1% of the global volume.
While shipping companies globally are positioning to cut a share of the growing container shipping industry, it is important to note that none of the containerships is Nigerian. Yet policy makers and the Nigerian Maritime Administration and Safety Agency (NIMASA), which is charged with the responsibility of developing indigenous tonnage, continue to project a false perception of the country as a maritime nation.
The absence of a Nigerian shipping company in the container shipping business is chiefly attributable to the absence of government support and a harsh operating environment. An examination of the leading lines in the business shows the important role of government in empowering and enabling private individuals in this regard. For instance, Maersk, with around 4.01 million TEUs overall, offices in 130 countries and staff strength of about 75,813 in its group, remains the pride of the Danish government.
It is difficult to consider a country as a maritime nation when none of its shipping companies plays in the global arena or in container shipping that is responsible for more than 60% of the seaborne trade.
Nigerian shipping companies are so feeble they cannot even compete in their own coastal waters. As of today, nearly ninety per cent of Nigerian shipping companies have liquidated right under the nose of NIMASA, and those that are still in business are struggling to survive because they lack the capacity to compete. Indeed, most of the local shipping companies were built on shaky foundations and illusive patronage rather than on sound economic judgments. Pitifully, NIMASA has remained docile and unconcerned despite warehousing about USD200 million accruing under the collection of the two per cent contribution of vessel owners to the Cabotage Vessel Financing Fund (CVFF). Nigeria's weak shipping companies implies the country is losing out in the huge global market and missing a unique opportunity to create jobs for its growing army of unemployed youths.
Despite the rhetoric and false figures often reeled out by the present management of NIMASA led by Dakuku Peterside, Nigeria is far down the ladder in the maritime space. This pathetic state of the country's shipping industry should serve as a clarion call to government to engage competent hands in managing the affairs of NIMASA and in formulating/executing policies that will support indigenous shipping concerns.
It is important to note that the way to encourage this global participation is not necessarily by setting up another national carrier or national shipping line as being championed by the Minister of Transportation Rotimi Amaechi; it is simply by supporting indigenous private investors in a way that guarantees their business operations and return on investment.
The reality before Nigeria is that it cannot claim to be a maritime nation when it does not have local shipping lines playing effectively in its coastal waters and in the global maritime arena.
Copyright Ships & Ports Ltd. Permission to use quotations from this article is granted subject to appropriate credit given to www.shipsandports.com.ng as the source.