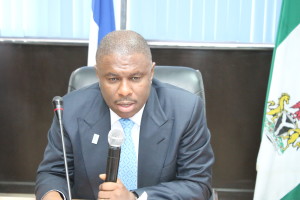 Director General, Nigerian Maritime Administration and Safety Agency (NIMASA), Dakuku Peterside has said that failure of the federal government to put in place necessary policy frame work, lack of knowledge and investment are factors responsible for Nigeria's inability to maximize the benefits of the blue economy.
Speaking at a one-day seminar for maritime media stakeholders organized by the agency in Lagos on Tuesday, Peterside noted that there is need to put in place suitable policies to harness the untapped benefits in the blue economy.
He added that there should be commitment by African leaders toward providing investments opportunities to support the growth of the blue economy, generate employment and improve governance.
He said the Minister of Transportation, Rotimi Ameachi is presently driving the establishment of a blue economy policy that will help the country unlocks its maritime potential and increase the wealth of the nation.
"Studies have shown that ocean resources are enough to sustain the economy. What we have in the sea, on the sea and above is more than what oil and gas can offer us. But why is it that we are not taking advantage of the blue economy; it is because our people are so ignorant of the concept of the blue economy. It is not just a Nigeria thing but Africa challenge.
"Presently, the people of the continent lack knowledge about the blue economy, its legal frame work and investment. If we are able to tackle these problems, we will be able to sustain the concept of the blue economy.
"In many nations of the world, they have either a sub department or a ministry of ocean department but we have non in Nigeria. The minister of transport however, is driving a process to enable us develop a government policy on the blue economy," he said.
Peterside appealed to the media for support to help enlighten the public on opportunities inherent in the blue economy.
The NIMASA DG also assured that the anti piracy bill at the National Assembly will be passed into law this year.