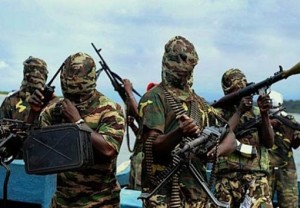 The Inspector-General of Police Intelligence Response Team, IRT, has arrested 11 kidnap suspects in Port Harcourt. The suspects include Anthony Pepple, who is also known as "Urban Gorilla" and a suspected member of Niger Delta Avengers, a militant group in the Niger Delta responsible for attacks on oil facilities and installations.
The Commander of the IRT, Abba Kyari, disclosed this in Lagos on Tuesday.
Kyari, an assistant commissioner of police, gave the names of the other suspects as Saheed Adekunle (Black Devil), Hillary Wogu, 41, Ogbungbada Chima, 36, Chief Aghara Lobito, 31, Lucky Marako, 36 and Igbiki Sokari 38.
Others were Dokubo Ipalibo, 28, Okwudili Pascal, 41, Candy Nwankwo, 30 and Tony.
He said that Pepple was well educated and was a staff of SAIPEM, a multinational oil servicing company, adding that he had worked in the company's offices in Nigeria and Abu-Dabi, UAE.
"Upon his arrest, Anthony Pepple confessed to being a key member of the Niger Delta Avengers and the mastermind of the cold-blooded murder of one Saboma George, a militant commander, in 2009.
"He also confessed to being the kingpin of a kidnap syndicate that was known for targeting medical doctors, pharmacists and other unsuspecting residents of Port Harcourt since 2015.
He listed some of the victims of the kidnap gang to include Onomake Monday, a pharmacist; Rosemund Osahogulu, a former Vice Chancellor; and Ignatuis Ajuru of University of Education, Port-Harcourt.
"Exhibits recovered from the syndicate were one AK-47 rifle with bridge No. 4398, two SUV cars and a Volkswagen Golf car used for their operations," he said.