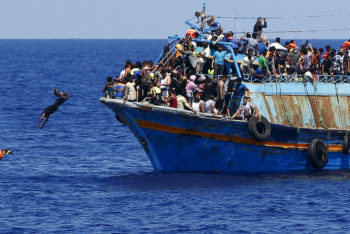 The number of African migrants on sea route to Europe has surged in recent times despite the recurrence of flimsy and overcrowded dinghies sinking in the international waters and the corresponding drowning of desperate migrants.
Officially, 962 migrants died in the Mediterranean between 1 January and 19 April 2017 but Libya's coastline is more than a thousand miles long, and nobody knows how many boats sink without being seen. This is in addition to an unknown number perished during their journey north through the desert.
This figure compares with 1,263 in the same period in 2016.
Italy has become the main arrival point in Europe for people fleeing areas afflicted with famine, drought, persecution, violence, poverty and extreme inequality most of them crossing the Mediterranean from Libya.
The International Organisation for Migration (IOM) reports that 42,974 migrants and refugees entered Europe by sea in 2017 through 19 April, over 80 percent arriving in Italy and the rest in Spain and Greece. This compares with 205,613 through the 19 April 2016.
IOM Rome spokesperson Flavio Di Giacomo noted that the 36,703 migrant arrivals to Italy by sea so far in 2017 surpasses by more than 10,000 the number of arrivals at this point during each of the past two years.
The migrants, many from Nigeria and Senegal with some from Bangladesh, are among an estimated 20,000 held by criminal gangs in irregular detention centres in Libya, IOM said.
Italy's Ministry of Interior released figures on nationalities of migrants arriving the country so far in 2017 ranked Nigeria as the country with second highest number of migrants (3159) after Guinea (Conakry) which has 3168.
Bangladesh, Cote d'Ivoire and The Gambia have sent 2831, 2527 and 2232 migrants respectively through the first three months of 2017.
The figures showed that 1915 migrants arrived Europe from Senegal; 1739 from Morocco while 1141 from Mali. Somalia and Eritrea sent 634 and 577 migrants respectively.
The statistics are striking in the case of Bangladesh, which recorded just a single arrival by sea from Africa during the first three months of 2016, compared with 2,831 this year.
Arrivals are also up sharply from Guinea, Cote d'Ivoire and Morocco, compared with the similar period last year.
Migrant crisis: January – April 2017
On January 14, about 100 migrants were feared drowned in the Mediterranean Sea after their boat sank between Libya and Italy, about 30 miles (50km) from the Libyan coast.
Eight bodies were recovered from the water while and four people were rescued, according to the Italian coastguard.
A day before, the Italian coastguard rescued about 550 migrants making the journey across the Mediterranean.
Doctors Without Borders (MSF), which was involved in the rescue, said that in one case it found 123 people crammed on to a single inflatable dinghy.
Worried by the flow of migrants from Libya, European Union leaders, on February 3, at a meeting in Malta, agreed on a plan to curb the trend.
EU leaders decided to offer Libya's UN-backed government €200m ($215m, £171m) funding to reinforce its coastguard.
The EU hoped Libya would be better able to disrupt people-smuggling networks and turn back migrant boats. But this had little or no impact.
Few weeks after the Malta meeting, bodies of 87 African migrants were washed ashore in the Libyan city of Zawiya on February 21.
A torn rubber boat was found nearby and some of those who died are believed to be children.
Some 6,000 migrants were rescued on the central Mediterranean between North Africa and Italy in the third week of March.
"We have yet to complete March, and we are already racing at a pace of arrivals that has exceeded anything we've seen before in the Mediterranean," IOM spokesman Joel Millman had said in March.
"This is typical of spring, getting very busy, but it's not typical to have the numbers be so high this early and the corresponding deaths that go with it."
More than 200 migrants were feared dead March 24, after five bodies were discovered off the Libyan coast, according to a Spanish aid organization, Proactiva.
Proactiva said the bodies were found floating near two capsized boats which each could hold more than 100 people. The group's Laura Lanuza said the five they pulled from the Mediterranean were young men who appeared to have drowned.
An Egyptian court on March 26 sentenced 56 people to prison over the capsizing of a migrant boat that killed more than 200 people in September 2016.
They were given sentences of up to 14 years, and the convictions included murder, manslaughter and negligence.
The boat was bound for Italy when it sank eight miles (12km) off the Egyptian port city of Rosetta. Some 450 migrants were estimated to have been crowded aboard, including around 100 trapped in its hold.
There were 163 survivors, mostly Egyptian. Syrian, Sudanese, Eritrean and Somali migrants had also been on board.
On April 6, one person was found dead when Italy's Coast Guard and humanitarian ships rescued 1,350 migrants in 12 separate operations in the Mediterranean.
The migrants were all found in an area some 25 km (16 miles) north of the Libyan coast. They were traveling on a larger boat, five dinghies and 6 smaller vessels, according to Italian Coast Guard.
The brutal treatment to which migrants are being subjected in lawless Libya stunned the world when IOM on April 11 revealed that Africans are being sold by their captors in "slave markets" in Libya
Victims told IOM that after being detained by people smugglers or militia groups, they were taken to town squares or car parks to be sold.
A Senegalese migrant narrated his ordeal, saying he had been sold at one such market in the southern Libyan city of Sabha, before being taken to a makeshift prison where more than 100 migrants were being held hostage.
"Sub-Saharan migrants were being sold and bought by Libyans, with the support of Ghanaians and Nigerians who work for them," IOM Niger staff had reported.
On April 13, at least 97 African migrants, including women and children, were missing after their boat sank off the Libyan coast, the country's coastguard spokesman said.
A total of 23 male survivors were rescued while clinging to a floating device, Ayoub Kassem added.
Survivors reported that 15 women and five children were among those missing when their boat sank less than 10km (6 miles) off the coast of the capital, Tripoli.
This year's Easter festival witnessed series of dramatic rescues of migrants by humanitarian ships. Nearly 9,000 mainly African migrants were rescued in the Mediterranean between April 14 and 16, after setting out from Libya on unseaworthy boats trying to reach southern Italy.
Smugglers took advantage of calm seas and better weather to take migrants out of detention centres in Libya and launch boats to Europe.
The EU border agency Frontex saved more than 1,400 migrants in 13 rescue operations, while private humanitarian organizations were involved in the remainder in coordination with the Italian navy.
The UN refugee agency said seven people died, including one pregnant woman, over three days.
"This was an overwhelming search and rescue operation by all sides involved," Babar Baloch, spokesman of the United Nations High Commissioner for Refugees (UNHCR), had said.
Rescue workers were still sorting out survivors of the Easter tragedy when Libyan fishermen, on April 18, found bodies of 28 migrants who appeared to have died of thirst and hunger after their boat broke down off the coast of Sabratha city.
The 28 migrants, including four women, were found after sunset by the fishermen, who towed the vessel to shore, Libyan Interior Ministry security unit commander Ahmaida Khalifa Amsalam told Reuters.
Nigerian women trafficked into prostitution in Italy
Though IOM's 2017 figures showed a decrease in the numbers of Nigerian migrants on sea route to Italy when compared to the 2016 figure, the country still maintains its second position.
According to IOM report, about 3,600 Nigerian women arrived Italy by boat in the first half of 2016, almost double the figure in the same period in 2015.
Majority of the women (80%) were being deliberately trafficked for sexual exploitation purposes in Italy and across Europe.
Most Nigerian women who arrived in Italy are already victims of trafficking, many have been subjected to serious sexual exploitation in Libya, Simona Moscarelli, an anti-trafficking expert at the IOM had said last year.
Describing their condition as worse, she said "They are really treated like slaves.  They arrive Italy with debts of about £40,000 for their journey from Nigeria, which they are expected to pay back.
Nigerian trafficking gangs use a toxic mix of false promises of legitimate employment and traditional "juju" ceremonies to recruit and gain psychological control over their victims.    
Copyright Ships & Ports Ltd. Permission to use quotations from this article is granted subject to appropriate credit given to www.shipsandports.com.ng as the source.