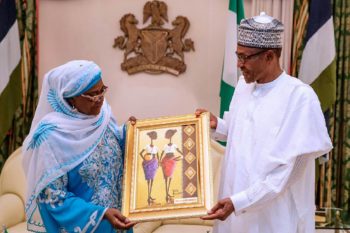 President Muhammadu Buhari on Friday reiterated Nigeria's readiness to assist African countries in distress.
He reiterated this when he received the outgoing High Commissioner of the Republic of Sierra Leone, Haja Afsatu Kabba, at the State House, Abuja.
Buhari said brotherly assistance extended to the West African country during the Ebola epidemic and the recent mudslide natural disaster, was the least Nigeria could do
He said, "I congratulate your new President on his election, and believe that our long-standing relationship, which dates back to almost 60 years, will continue to flourish."
He wished Kabba, who had spent two years in Nigeria, the best of luck in her next assignment.
The outgoing High Commissioner expressed gratitude to the government and people of Nigeria for the support granted her and her country.
She expressed optimism that the good bilateral relations between Nigeria and her country would continue.