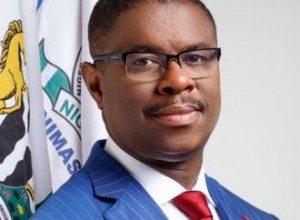 The Director-General, of the Nigerian Maritime Administration and Safety Agency (NIMASA), Dr Dakuku Peterside, on Wednesday said that the floating dockyard procured by the agency will save about N36 billion in capital flight annually from Nigeria once it commences operation.
He stated that the floating dockyard would commence operations immediately after the commissioning by President Muhammadu Buhari.
Peterside who disclosed this during an interactive session with reporters in Lagos said that the facility which would be operated on a Public Private Partnership model will be located at a facility of the Nigerian Navy.
He added that when fully operational, Nigerian Ship owners and their foreign counterparts would no longer need to take their vessels outside the country for dry docking.
According to him, "Nigeria loses up to $100 million annually simply because when our ship owners need to dry dock their vessels, they mostly take them to neighbouring countries like Ghana and Cameroun thus spending avoidable forex. When this facility is fully operational it has the capacity to dry-dock any vessel in the country and save the much needed foreign exchange".
Dakuku further noted that the facility would be operated in conjunction with the builders as technical partners.
The NIMASA boss assured that it will create thousands of jobs for teeming Nigerian youths as well as provide training opportunities for seafarers, adding that the NIMASA floating dockyard would also be available as a training facility for the students of the Nigerian Maritime University, Okerenkoko and other maritime institutions in the country.
He said, "We are planning to ensure that the permanent location of this facility would benefit our students for training and we have also engaged the builders to manage the facility for a one year period at a Naval facility" while adding that further arrangements are being worked out.