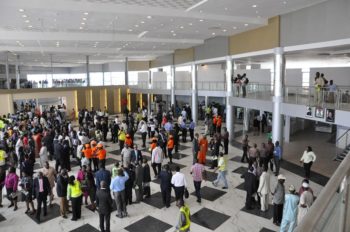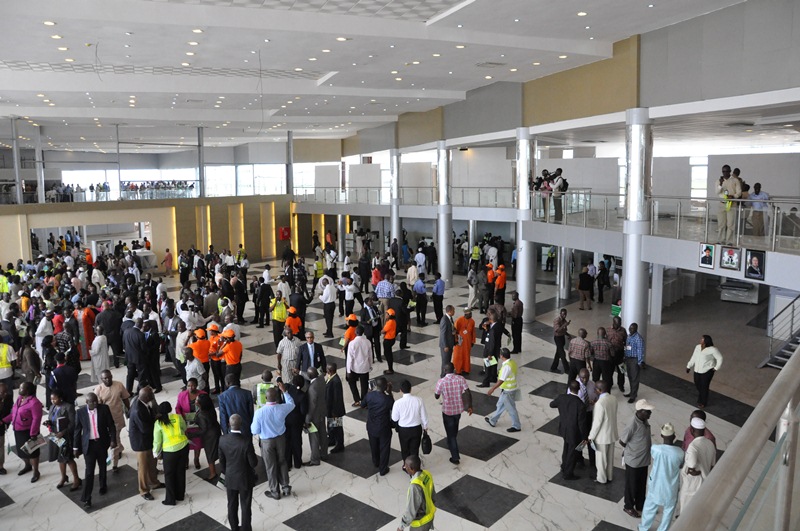 The Federal Airports Authority of Nigeria (FAAN) says that a total of 9.2 million passengers passed through Nigerian airports in 140,552 aircraft movements between Jan. and Sept. 2017.
According to data released by FAAN in Abuja on Thursday, 6.38 million domestic and 2.8 international passengers passed through the airports during the period.
The data also showed that 110,220 domestic and 30,332 international flights were operated across the nation's 22 airports during the period under review.
It further revealed that 4.6 million passengers arrived in the country in 70,680 flights, while 4.5 million passengers departed in 69,872 flights.
The total cargo movement during the period according to FAAN stood at 128.37 million tons per kilogram.
The statistics indicated that 86.11 million tons per kilogram arrived in the country through the airports, while 42.26 million tons departed during the period.
A look at the four major airports in the country shows that Murtala Muhammed Airports (Domestic and International Wing) recorded the highest passengers and aircraft movement during the period.
The data indicated that Lagos airport recorded 4.5 million passengers, with 2.4 million passengers on domestic routes and 2.03 million on the international routes.
The Nnamdi Azikiwe International Airport, Abuja recorded 2.4 million passengers even though the airport was shut for six weeks in March and April.
The airport also recorded 1.9 million passengers on domestic routes, while the international routes recorded 485,481 passengers during the nine months period.
FAAN also disclosed that Port Harcourt International Airport recorded 684,859 passengers comprising 622,780 domestic passengers and 62,079 international passengers.
Aminu Kano International Airport, Kano, according to the report, recorded 312,792 passengers during the period under review comprising 167,391 domestic and 145,404 international passengers.
The monthly breakdown of the statistics shows that 987,844 passengers were transported through Nigerian airports in January comprising 494,716 arrivals and 493,128 departures with 16,141 aircraft movements.
It revealed that in February, a total of 843,343 passengers comprising 415,542 arrivals and 427,801 departures in 14,051 aircraft movements were recorded.
The statistics also showed that 738,314 passengers comprising 366,997 arrivals and 371,317 departures in 12,499 aircraft movements were recorded in March.
It further revealed that 974,081 passengers comprising 544,574 arrivals and 429,507 departures in 13,721 aircraft movements were recorded in April.
The month of May saw 1.05 million passengers comprising 535,133 arrivals and 515,067 departures in 17,161 aircraft movements, while 1.01 million passengers comprising 507,597 arrivals and 501,824 departures were transported in June.
The statistics indicated that there were 15,758 aircraft movements in June, while 1.14 million passengers comprising 571,813 arrivals and 575,349 departures were transported in July in 16,717 aircraft movements.
It further showed that the highest traffic was recorded in August with 1.26 million passengers comprising 607,277 arrivals and 660, 575 departures in 17,453 aircraft movements.
In September, 1.18 million passengers comprising 610,244 arrivals and 569,991 departures were transported in 17,205 aircraft movements.   
Copyright Ships & Ports Ltd. Permission to use quotations from this article is granted subject to appropriate credit given to www.shipsandports.com.ng as the source.