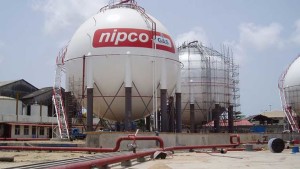 Nipco Plc has launched a 4.84 billion naira ($16 mln) offer for the shares it needs to take its stake in Mobil Oil to 70 percent to comply with Nigerian takeover rules, its advisers said on Wednesday.
Nipco's investment subsidiary bought 60 percent of Mobil Oil Nigeria from Exxon Mobil Corp. in October, when the U.S. giant pulled out of downstream fuel distribution in Nigeria.
Nipco, which was founded in 2001, now owns 66.7 percent of the fuel retailer, according to an offer document seen by Reuters.
It is offering minority shareholders 417.12 naira per share for the 3.23 percent of the capital, or 11.6 million shares, it needs, the same price it paid Exxon last year and a 75 percent premium to Wednesday's market price of 238.36 naira.
The offer ends on June 29.
Shares in Lagos-listed Mobil Oil have lost 10 percent this year, giving the company a market value of 85.95 billion naira ($282 mln). The shares rose 74 percent last year.
The downstream oil industry in Africa's biggest economy is consolidating as multinational oil firms divest to focus on upstream exploration with higher margins, especially given the backdrop of lower crude prices.
Nigeria exports nearly 2 million barrels of oil a day but imports the bulk of its refined products because its refining capacity is unable to meet the country's daily fuel needs of 40 million litres.
Mobil Oil rival Oando has now shifted away from being a fuel distributor to explore for oil and gas. It sold a 60 percent stake in its downstream business last year to Vitol and Helios Investment Partners for $210 million.
Mobil was founded in 1951 and operates more than 200 petrol stations in Nigeria. It also owns three plants that manufacture lubes, petroleum jelly, and insecticides in Nigeria's commercial capital of Lagos.