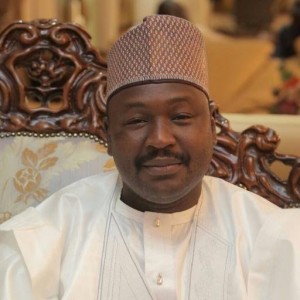 The Senate committee on navy, on Tuesday demanded an increase funding for the Nigerian navy in the 2017 budget, in view of the current security challenges in the country.
This came barely two months after members of the House of Representatives committee on navy, during its over sight function in Calabar, promised that the Nigerian Navy would be given priority attention in the 2017 budget.
Chairman, senate committee on navy, Isa Hamma Misau, made the recent call after he led members of the committee on tour of facilities at the Eastern Naval Command (ENC), also in Calabar.
Addressing newsmen shortly after disembarking from the NNS Centenary, Misau said the committee was not pleased with the current condition of some of the navy's platforms, and would ensure an increase budgetary allocation to her in the budget.
Flanked by the Flag Officer Commanding (FOC), Eastern Naval Command, Rear Admiral James Oluwole, Misau said considering the critical role of the navy in Nigeria's security architecture, no stone will be left unturned to support her in order to acquire the needed facilities.
"We are here to visit the Eastern Naval Command, to look at the facilities and see where we can help the Nigeria navy, especially now that the country is facing lot of difficulties, especially the insurgency.
"We are going back to the drawing board to see how we can get more money for the Nigeria navy so that we can assist them to perform their duty effectively. The state of the jetty is not good enough and this is a critical infrastructure the navy needs.
"The navy is an important part of the military, and with more facilities, the issues of militancy would stop. The government has no option, even with the limited resources, than to adequately fund the navy in the 2017 budget", he said.
In his remarks, the FOC, Rear Admiral James Oluwole, thanked the lawmakers for the visit, expressing confidence in the ability of the National Assembly to make positive contributions towards improving the operational capability of the navy.
"Their presence will surely bring lots of good things to the navy. I don't need to repeat what he has said.
"We are looking forward to the desired contribution from them to enhance our operational capability. It is the desire of the senate, through the senate committee on navy to see that the navy moves forward" Oluwole added.
The tour, which began with the inspection of quarter guards by Misau at the Eastern Naval Command headquarters, also took the lawmakers to the Fleet Support Group, among other naval formations in the state.
Copyright Ships & Ports Ltd. Permission to use quotations from this article is granted subject to appropriate credit given to www.shipsandports.com.ng as the source.