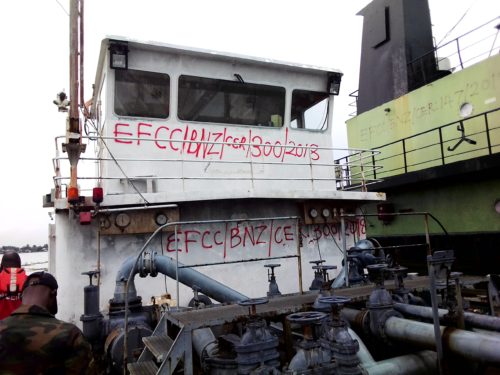 The Nigerian Navy Ship (NNS) Pathfinder on Tuesday said its operatives arrested a motor tanker, MT Arowolo, over the vessel's alleged 'suspicious movement' around Onne Anchorage in Eleme Local Government Area of Rivers State.
The navy said the anchorage was known in security circles as a notorious zone for illegal activities by oil thieves.
Speaking at the handing over of the vessel and two suspects to the Economic and Financial Crimes Commission (EFCC) in Onne, the Base Operation Officer, NNS Pathfinder, Commodore Murtala Rogo, said troops on board naval gunboats, on a routine patrol of Onne waterways, intercepted MT Arowolo on April 11, 2018.
"MT Arowolo was sighted discreetly moving along Onne anchorage with its Automatic Identification System (AIS) switched off at several times without any justifiable reason," he said.
Rogo further said that unknown to the suspects; troops were still able to monitor the movement of the suspected illicit vessel through its radar.
He noted that it was a maritime crime for sailors of vessels to switch off their AIS as well as turn off their navigation lights at night.
"Two suspects were arrested onboard the vessel. They apparently hid the vessel's identity to avoid detection by the navy.
"After the arrest, the vessel was towed to the NNS Pathfinder holding bay at the Federal Ocean Terminal Onne for safe keeping and investigation," Rogo said.
Receiving the vessel and suspects, a Senior Detective Superintendent of the EFCC, Macaulay Olayinka, commended the navy for its synergy with the commission.
He assured that the suspects would be prosecuted as soon as possible.