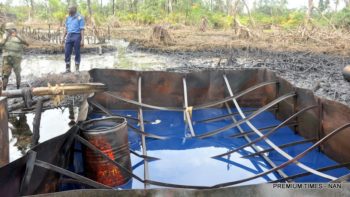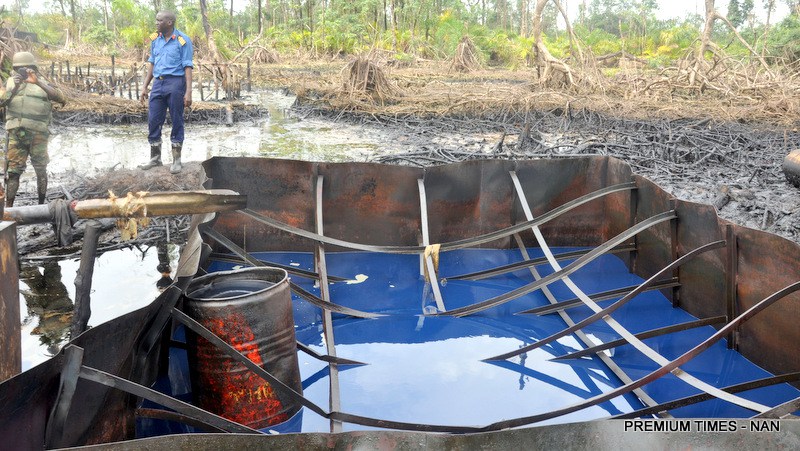 The Nigerian Navy on Friday said it had discovered and destroyed an illegal refinery that contained 1.59 million litres of illegally refined diesel during a mop-up operation in Port Harcourt.
Speaking at the destruction exercise, Williams Kayoda, the Commander of Nigerian Navy Ship, NNS, Pathfinder, however, said no arrest was made during the raid.
Kayoda said the navy deployed troops to the site after it got intelligence report about the illegal refinery situated around Iwofe, Rumuolumeni area of Port Harcourt.
"Troops arriving at the site discovered 24 metallic tanks with each containing 60,000 litres of petroleum product suspected to be illegally refined diesel.
"Similarly, we discovered wooden boats with 150,000 litres of diesel believed to be stolen diesel.
"The petroleum product was evacuated to a safe location before troops destroyed the illegal refinery using a Swamp Buggy machine which completely crushed the metallic tanks.
"This new strategy is part of our efforts to end current air pollution in Port Harcourt while making it difficult for oil thieves to revive illegal refineries after it was destroyed," he said.
The commander said the use of "Swamp Buggy" was part of tactics which involved complete crushing of metal tanks rather than setting both storage tanks and petroleum products ablaze.
The News Agency of Nigeria reports that the new strategy was adopted following reports that burning of illegal refineries was partly responsible for current air pollution in Port Harcourt.
The Swamp Buggy strategy adopted by the navy replaces a former approach which involved setting ablaze illegal refineries and illegal bunker sites with its petroleum products.
Kayoda said the navy was committed to protecting the environment and health of residents and assured that it would carry out its mandate in line with standard practice.
"The Nigerian Navy will sustain this strategy until we bring this menace to a stop because the economic prosperity of the nation cannot be compromised to criminal individuals and groups.
"Operation Rivers Sweep which was concluded in February and being consolidated with ongoing Operation White Valentine are part of efforts to stop illegal bunkering and oil theft," he said.
Also speaking during destruction exercise, Roseline Konya, the Rivers Commissioner of Environment, said the Rivers Government had setup a task force which was mandated to discover and stop the source of the air pollution.
She said that Governor Nyesom Wike had given the task force a matching order to locate the source of the air pollution which causes lung infection and cancer.
"We have seen that the military were in the past burning illegal refineries partly because they had no alternatives.
"We are glad to witness that they no longer burn illegal refineries; but destroy the sites by removing illegally refined petroleum products before they crush storage tanks with Swap Buggy machines.
"The Rivers government is pleading with individuals, organisations such as the Army and Navy to assist us locate and eradicate the source of the soot," she said.
Ms. Konya, a professor and chairperson of the task force, commended the navy on the new Swamp Buggy strategy.
Copyright Ships & Ports Ltd. Permission to use quotations from this article is granted subject to appropriate credit given to www.shipsandports.com.ng as the source.