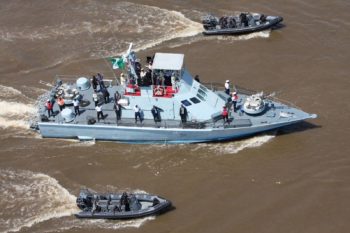 The Nigerian Navy say it would continue to crush oil thieves and related criminals on the nation's maritime space until they give up on their unlawful activities.
The outgoing Flag Officer Commanding (FOC), Naval Logistics headquarters in Oghara, Ethiope West local government area, Delta state, Rear Admiral Peter Onaji, said this weekend while handing over to his successor, Rear Admiral Akinrenade Akinjide.
Onaji also called for timely information from the civil populace to enable the Navy achieve greater result in its maritime security operations.
He said civilians should know they have a role in the task of defending the nation, assuring that the Navy will continue to make positive impact in the fight against crude oil theft, sea piracy and other related crime on the nation's maritime waterways.
"The task of defending Nigeria is collective. Let's all work together for the national security of our country," he said.
He further appealed to naval officers and ratings in the state to relate healthily with civilians, stressing that they should not see their uniforms as a weapon of oppression against the civilians.
"This uniform is not to oppress the civilian but to promote societal happiness for all. Let's all relate with our civilians properly " he said.
He later formerly handed over to his successor, Rear Admiral Akinrenade Akinjide, urging the state to extend the same support he got to him.
The new Flag Officer Commanding the Naval Logistics headquarters, Rear Admiral Akinjide assured that the Command will be alive to its major responsibility of providing efficient logistics support and services to the various naval operational commands to discharge their mandate.