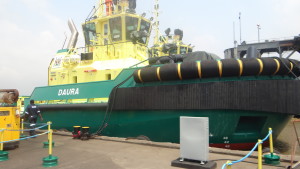 The Nigerian Ports Authority (NPA) says Nigerian pilots are undergoing a three-month training to fully handle the four newly-acquired tug boats.
NPA Managing Director,  Hadiza Usman disclosed this on Wednesday in an interview in Lagos.
The NPA inaugurated four 60-tonne buller-pull tugboats with state-of-the-art equipment and fully computerised engines.
"Currently, we have management service using Landfall. Landfalls training Nigerian pilots.
"I think within the period of three months, they will be able to handover to Nigerian captains, who are already on board, now familiarising themselves with the technology.
"The Nigerian captains are well trained; what they are trying to achieve now is to understand how these automated top-of-the-range tugboats operate, ".
Usman said that the tugboats would boost marine operation and service delivery in the Lagos Pilotage District as well as improve revenue for the authority.
She added that the boats would also assist vessels to berth appropriately, enhance navigation and improve management of the channels.
"The tugboats will provide the authority an avenue where we can tuck in very huge vessels and a lot of our operators have been concerned about the towage services we are providing.
"With this new entry, in addition to our fleet, we are going to be more efficient in delivering towage services in our pilotage districts.
"Now, we have nine tugboats. We are going to look at the requirements across the respective zones and then deploy them accordingly.
"These four tugboats are the top-of-the-range tugboats globally. They are international best tugboats that are available in the market and we have brought them to the Nigerian market.
"And we believe that they will enhance our maritime operations both in the Eastern and Western zones of the maritime operations,'' she said.
NAN reports that NPA acquired four tugboats at the cost of over 30 million US dollars (N9.16 billion) to improve port efficiency.
The tugboats are MT DAURA, MT UROMI, MT UBIMA and MT MAJIYA